So you may have heard of a stats site called aoestats, which gives data on how often people win and play as each nation. The highest win rate is Franks, aoestats says that the Franks are the most played nation and have a 54% win rate against any nation on Arabia.
So you might think that means if a player is playing Franks and their opponent is playing random, they would have a roughly 54% chance of winning. However, this is not true.
Let's say you only play Franks, every time you win, your ELO raises, and you go against more challenging opponents. Eventually, you will reach an ELO where you win 50% of your games, no matter how good Franks are. Even if you play a selection of nations, you skew the results if you don't play random.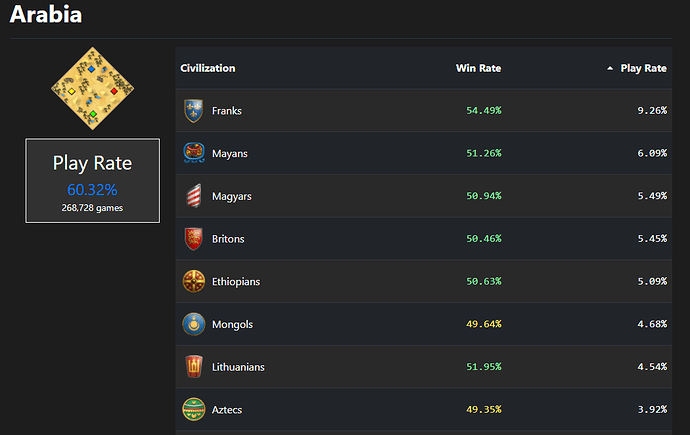 The result is that the person playing Franks a lot is getting a win rate closer to 50%. The person who plays random or a large selection receives a much higher win rate when they roll Franks, which bumps them up to 54%. Franks are picked at least nine times more often than Franks are rolled randomly, so the stats will show their win much closer to 50% than it should be.
Because the Frankish win rate is consistently high, people pick them more, leading to their win rate getting even closer to 50%, without them being balanced. It is impossible to tell what Franks real advantage is from the stats given. If you could filter the results by only random picks against random picks, it would give you a much better picture of the balance, though. Although the real win rate is likely somewhere in between 54% and 90%