Hi guys
I created this poll to see what do you think about the battle mechanics shown until now.
Land warfare it's fine but not the naval warfare
Naval warfare it's fine but not the land warfare
I'm perplexed about both
I like both
We don't have enough elements to judge
Honestly, from what we have seen so far, I am perplexed by many aspects:
I noticed, that probably in AoE4, we lose several features:
In fact, the military stance of the units seems no longer to be present (aggressive, defensive, keep the position)
Contrary to what they say about readability as motivation for cartoon graphics, the recognition of the selected units, from that brown icon, seems to me to be more difficult than in previous versions of AoE (but perhaps an impression is right).
Each military units have the same formation, which make me think that are useless. IF not for micromanagement (maybe even not for that, since that is not anymore present the splitted).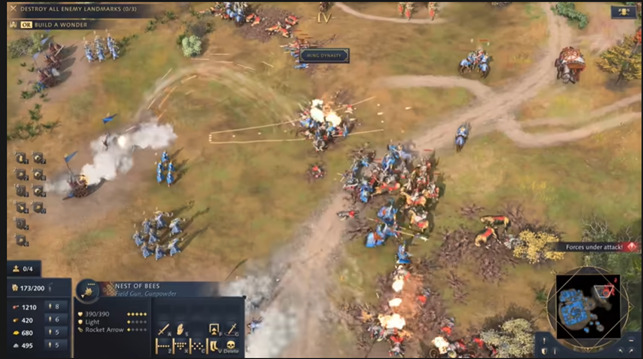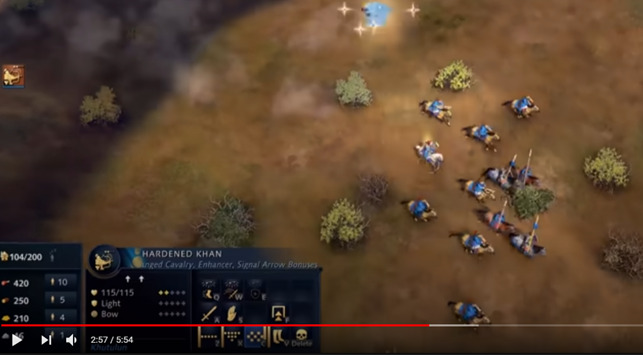 In general it seems that:
First line: special commands typical of the selected unit
Second line: commands, attack, abort, preside, and with "v" credo patrol
Third line: useless formations, how sad.
I would have liked the possibility to group for example a minimum troops of the same type required, to activate particular formations such as shieldwalls or other, giving certain types of bonuses (For example against arrows, but you lose mobility). It would have made ambushes even more nice, because maybe you don't have time to activate a certain formation, or some other things)
From what they have shown it almost seems that the possibility of hiding only makes sense with large numbers of hidden troops, since it seems that units can disengage the enemy as if nothing had happened.
Other incoerences:
While military units cannot destroy anymore walls with their sword, they can now put fire on stone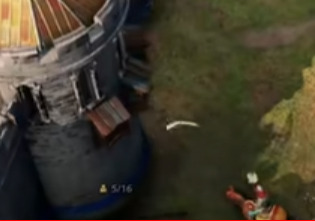 (Maybe it would have been better to define a fire armor, or the stone buildings impossible to being attacked by units)
Rams that magically open not only gates, but also destroy walls: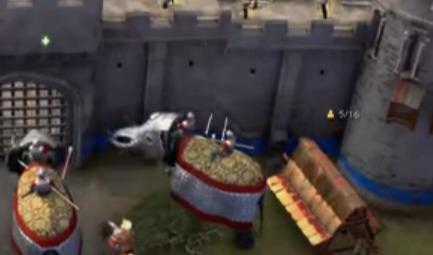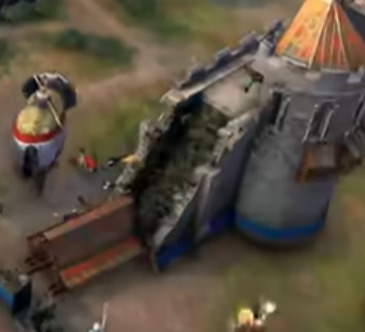 Elephants: that can destroy stone buildings (I would have understood timber buildings, gates…but stone castles and stone walls…):
They have never shown archers who can set fire on buildings, or use fire arrows (maybe even to damage farms)
Unit types:
At least as regards the units, it seems that from the construction "barracks" will be substantially the same: with the usual two types: infantryman, spearman.
While the unique units shown so far appears to be a little more now:
English: Longbowman
Chinese: Jingdao, Fire Lancer; Nest of Bees, Chu ko Nu
Mongols: Hardened Khan, Mangudai (not sure)
And some of Abbasyd, and Delhi.
Siege weapons shown:
Trebuchets, rams, siege towers, ballista
Onagers / catapults, bombard, cannon (probably unique units of english civ)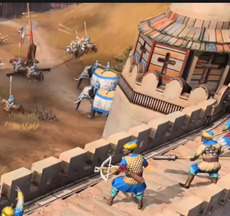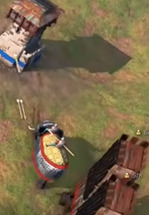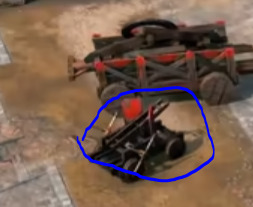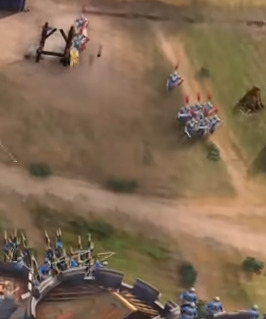 So it seems that we won't see neither ladders, nor diggers, nor other weapons (Unless as unique units)
Units can still pass on the debris of a building (maybe even just destroyed) ( well maybe this is too much lol)


Naval Warfare:
There is almost nothing to say, from what we have seen:
Ships can rotate deliberately
-Attacks will be based on fire arrows from the front, or if you have gunpowder, from the side.
It honestly seems that naval battles are still based on "who spam more ships wins"
Conclusions:
Honestly I would have preferred a more evolved battle mechanics from what were the typical mechanics of AoE (especially the 2).
In particular:
Land Warfare:
Unity stance (which was already present, but which no longer seems to be)
Possibility of using formations that give greater variety and possibility of strategy than the usual rock, paper, scissors; and less affected by exaggerated micromanagement.
Inconsistencies such as the possibility of setting fire to stone buildings for example
Few siege units (practically the same as AoE2), and with the same compromises that were adopted at that time (rams and elephants destroying stone walls)
Naval Warfare:
There seems to be no improvement from what has been shown so far.
No influence of weather and terrain on units and ships.
Things that I like:
Mongolian mounted archers are finally able to attack while running
The maps look quite large
The sounds of battle
Possibility of ambushes
Buildings that do not catch fire indefinitely, but lose health
Units on the walls
I don't say to be realistic at the level of Total War … but at least overcoming the compromises developed in the previous AoE, and implement a little more complex mechanichs… to rejuvenate AoE, the Definitive Editions are already present.