"Through the Ages" achievement does not unlock in my Steam account even when I have played hundreds of hours.
IT DOES show as already unlocked IN game on November 2nd 2022, and on my Xbox profile as well.
I have unlinked and linked back again my Xbox profile and kept playing and advancing ages, there were no results.
I have never installed any mods/ tuning packs. I have uninstalled and re-installed the game and kept playing. I also uninstalled Steam and deleted what I think were all the files for AOE4 to then do a fresh re-install. Achievement is still locked in Steam so I can't achieve 100% completition.
What I believe could have caused the issue was using the same Xbox profile in two different computers with two different AOE4 accounts.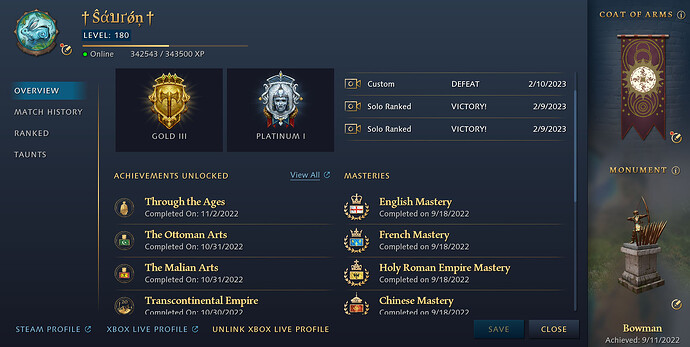 this is my Steam profile: Steam Community :: † Ŝάบґǿņ †
I did send a ticket to Game support via e-mail, twice, were they told me to try some of the things I already mentioned, and that they would look into it.
There have been no results.
Looking for help! thank you.