Hello, Age II: DE beta participants!
From all of us on the Age of Empires team: THANK YOU for participating in the closed beta! To show our appreciation, we've awarded you a brand-new forums badge and title, which should be visible on your forum profile. (Note: You'll need to be logged in using the same Microsoft Account as the one you used to sign up for the Age Insider Program).
For now, this badge has taken the place of the standard Age Insider badge we rolled out several months ago. In the future, we hope to provide different avenues through which to show off the various Age betas and Insider activities that you participate in.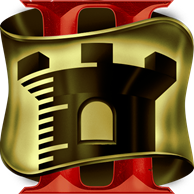 What does the badge represent?
When creating the badge, we wanted to represent and meld three elements:
Consistency with the Insider brand. We framed the Insider "IN" with a banner in the standard Age Insider badge and wanted to incorporate that general shape into other Insider-related content!

The goal of our Insider Program. Put simply, we view the Age Insider Program and Insider activities as an opportunity for us to embrace your feedback. We value your input and your passion for the Age series, and those things have allowed us to build (and continue building) an amazing franchise together. With this in mind, we decided to go with a focal visual of a castle: something you build toward in Age games – with a subtle nod to the act and art of construction (i.e. the ruler marks along the side!).

The activity in which you participated. In this case, the Age II: DE closed beta! Instead of going with anything too conceptual in this area, we decided to go for something more direct: by wrapping the Insider banner around the red "II" that's so iconic to the title. (This format also allows us to carry the design forward for other projects!)
Can I change it back to the Insider badge?
Unfortunately, no. For now, we'll use the forums icon adorning your profile picture to represent your most recent Insider activity. We are exploring a variety of options for building out this system in the future—especially as more betas and activities become available.
It looks like I have a new title. Is that something I can edit?
Good eye! Yes, your "Age Insider" title has been updated to read as "[Age Insider] Age II: DE Beta." This is something you can change at any time by clicking your forum icon in the top-right-hand corner, selecting your forum account name, and then navigating to "Preferences." From the "Preferences" screen, you should be able to view and select from your available Titles.