This is not related to sepoy rush or any age 2 strategy!
This is related to Agra Fort as a "fort building" In age 3 and onwards!
THIS IS NOT GONNA AFFECT AGE 2 ANYWAYS
EDIT: So after the USA announcement this becomes more relevant as, the US is just all europeons combined into one, also the fort making explorer
IMO NOW all the civs need a little buff/update. But here is all about Indian fort only.
The Concept of "upgrading" the Agra fort that takes a huge amount of time ! paralyzes the fort ! completely! as u cant make any troops while upgrading for a minute! nor does the upgrade prove any HP boost just increases attacto 37 and enable cav training ! Hp remains the same !
Previously they have already rectified the TAD problem by auto upgrading the fort to, which ever age u make it in, that is : if instead of age 2 , you do the fort in in 3 or age 4, u will now directly have the age 3 or age 4 upgraded fort, why not simplify it a little more !?
One of either is fine IMO :
Enable training of units while upgrading
OR
Enable age wise units in fort with age up, but fort hp n attack increase with usual slow upgrade, just as in case of other forts in game
OR
Automatic upgrades with age up (will be too absurd though)
Meanwhile here is to show how worthless the upgrades are on agra fort for just enabling the unit in each age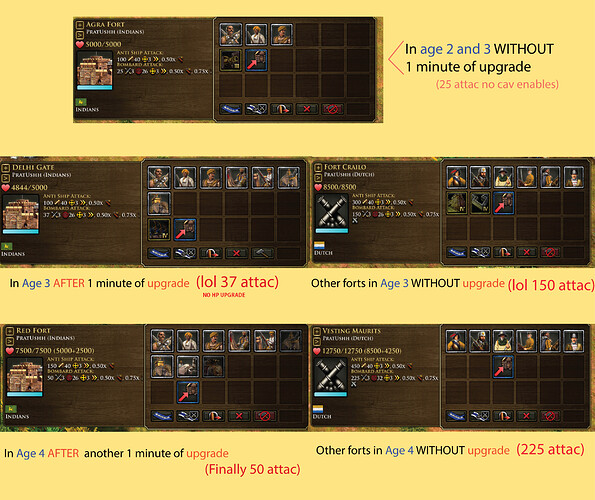 PS : There are more buildings that do provide map control in age 2 however they just lac the area damage, they have more attack even without any upgrade than upgraded agra fort : Blochouse ! or outpost!