Hello,
So over a year ago, i purchased a new computer with a AMD graphic card , and quickly noticed that this new computer was more laggy than my old system with a NVIDIA card when trying to play AoEDE II, but every other game was running fine…
I tried a million fixes: Re-installing game, wiping drivers, reinstalling drivers, formatting the whole system, changed ssd, 3rd party graphic card software, all the settings possible in radeon panel etc.
I finally found a fix after doing some online digging and noticing this was a recurrent issue with AMD cards and old video games or games not running on brand new technology.
I could have shared the fix earlier, but as I am upset with the devs of this game prioritizing pumpkins over optimization, i figured the devs team had enough time on their hand to figure this out.
But it is not the case and the most recent update has also capped FPS at 60 (completely hilarious if you ask me).
The fix:
so basically AMD newer cards, have this technology, green-eco efficiency
when they sense that no power is required to run the card, the card auto downclock itself (base clock)
and essentially, two things happens with AoE2 DE, there is a delay between the card downclocking itself and reclocking itself upwards based on usage (ie looking at a town center with a few vills versus a huge army battle), which causes frame time lag, its jumpy, fps goes up and down etc. You might be running high fps but its jumping around and very slugging.
with NVIDIA, you can simply select to the run card at full performance, but with AMD you cant.
to fix this, two things must be done
1st: you need to force a consistent voltage with a base clock speed high enough to force good performance (using the radeon control panel tuning system - see link below) - so here on the graph, you need to keep a singular voltage (take the highest voltage of your highest dot, and use this voltage for the 3 dots you'll put on the graph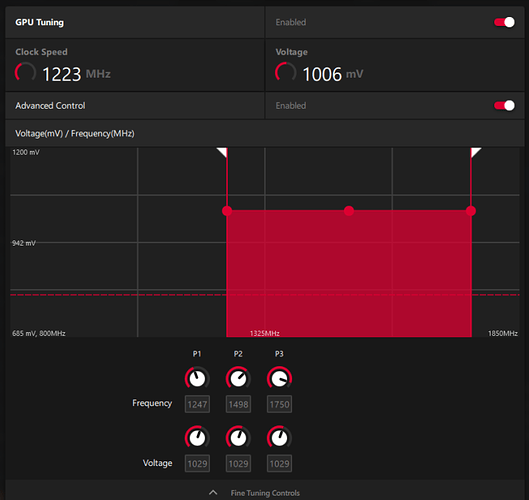 Do not copy my settings - my card is likely different than yours.
now the thing is, AMD's green eco technology will override this fix above, and it will trigger what we call 'deep sleep' mode which resets the core base clock to very low figures.
so these 'ds' settings must be deactivated, but you cannot do that without the help of a 3rd party software
These settings, are what we call soft powerplay tables.
This is what I used to disable those DS settings - i recommend reading the whole article:
Once you have disabled the ds settings - you need to recreate the forced voltage setting mentioned earlier.
PS: The recent 60 fps cap is literally not helping Radeon cards maintain a high clockrate to play the game, so i assume a lot would be lagging. The fix currently is to enable VSYNC if you have a high refresh monitor rate, but this causes some nasty input command delays similar to playing on voobly with 350-400 ping.
BUT HEY, WE GOT A NEW FONT!!!