Share your opinion based on the pricing of the AOE4
只要你游戏做的够优秀,我就愿意给钱,只要你做的不行,我就喷你,简单粗暴
兄弟啊,在澳大利亚AOE4的价钱是一百块,我能为这个价钱太贵了
I agree with you in the overprice of the game, other games which had a higher development cost and from "more poor" developer companies have cheaper prices. I am not an economics professional but I think that they are basing their price in the brand more than in the actual game, like Call of Duty franchise do.
Despite this… these guys will have my money. But I definitely will not buy the Deluxe Edition, basically because I cannot afford it.
I think they would have more profit by making the price attractive to new players to the franchise, and they would make the old players happier. With the actual price I think that just a few people will give an opportunity to the franchise.
确实贵了好多,我使用人民币购买的豪华版,大约63.61澳大利亚元,298人民币,普通版大约只需要52澳大利亚元,不过我们国家,平均收入,比你们低几倍,我认识的朋友很多也觉得有帝国时代4价格太贵了,我购买这个游戏更多的理由还是对曾经的怀念,就这次测试版我体验到的内容,我觉得定价确实偏高。
The price is fair, 60€ for a AAA game which actually delivers is absolutely fine.
I have paid the same for games that had no replay value and were done in 30 hrs or less. I will get a lot more hours of enjoyment out of those 60 bucks.
I would say that the price is understandable more than "fair".
It really is fair, the development does cost a lot of money. RTS is not the most popular of all genres so asking for the regular triple A price is very reasonable and to me seems fair. That not everyone is able to afford it is a different thing, the price is fair regardless, if you can't afford it, you probably shouldn't get it.
It will be on sale at some point in the future. But I do think the game is worth 60 bucks and definitely isn't overpriced.
yes I agree it's overpriced for many regions and many new people who are studying wanted to get into this game can't due to a high price barrier. MS is literally hindering new blood with this price wall. They will continue to play SC 2 Free which is top quality game, has entire wings of liberty free.
In Australia, the game cost 100 dollars
Here it's 60 EUR. That's way more expensive than it is in the US and Canada.
For 60 price tag I would expect an RTS to have (besides the solid gameplay) top notch graphics, fully customisable controls, perfectly functional UI, full mod support, ability to rewind recorded games, ability to reconnect MP games and so many others. Does AoE4 have any of this? Does it ****, it doesn't even have basic functions like patrol.
40 USD would be fair.
50 USD would be fair if there was a free to start option (choose 1 civ, skirmish and MP only).
For 60 USD to be fair all of MP would need to be free.
Here it's more expensive than in most places. And Day1 feature list doesn't fully constitute base price one way or the other imho, unless campaigns are really mindblowing.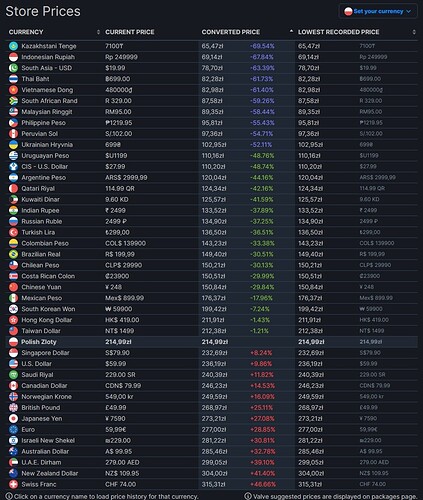 With 214 zl, it will be less expensive than any country using €
As 60€ would translate to 277,99 zl. for example.
Yes 214 is less than 277- it's clearly shown in my pic.
But I'm not living in a place where I'm paid in € so I'm not sure what are you are trying to suggest.
You were saying that it was more expensive to you than to most other places which is just not true.
I also don't get the controversy of new titles costing 60€ or "full price" when the quality and polish is clearly there. Maybe some disagree because of personal opinion and bias, and for those it will mean to vote with their wallet.
If you don't think it is worth the full price, don't buy it.
I think it's an unreasonable request to lower the price to what every individual thinks is right. Wait for a sale then.
Whether or not it will be worth the money is a question everyone will have a different answer for.
Whether or not it's overpriced according to the market is a lot less subjective, and games ultimately are rising in price at the moment. This isn't unique to Age IV.
The problem sets in when people go "well I remember games being cheaper", and, sure, games were sold for £40, £30, even £20 in the past. But by inflation these values tend to normalise to roughly between £50 and £60 in 2021 (for AA / AAA games with an appropriate amount of development effort). So no, older games weren't actually cheaper.
Relic's Dawn of War, back in 2004, set me back about £35? I think? I don't think it was under £30. Assuming a range of £30 to £35, that's £47 to £55 today.
And of course, if Age IV isn't worth the money to you, you're not obliged to buy it. But I think folks need to realise that games aren't getting expensive "again". They've always (for the most part) been expensive.
I think the price may alienate some potential buyers. Unfortunately, I do not think that the price will be lower, since there are two factors -
Betting on Game Pass - Microsoft wants as many people as possible to connect to their ecosystem, stimulating this with a high price for a purchase and sale transaction, I don't know whether this is right or not, all games have become more expensive (Battlefield 2042 costs $ 80-90) and I mean, the real future belongs to subscription services, with such prices, not many will be able to fully buy games.

The rise in development costs and the general dynamics of prices in the market - I think everyone has heard many times that game development is getting more expensive (it is not clear why, but let's say that this is so), in this regard, we see that prices for everything games are rising sharply and this applies to all game franchises, if earlier AAA games cost $ 20-40, now the norm has become $ 60-70, prices unfortunately change, and most likely they will never be the same, now this is the norm, then what Microsoft handed out re-releases for pennies just a "Christmas present", EA sold CnC Remastered for a lot of money.
In the end, I would like to post what I usually say about this, games are not a product of basic necessities, it is a luxury like going to the cinema or the theater, and their provision is not guaranteed by any regulatory legal acts.
Think about whether your home budget is enough for this purchase, it might be more profitable for you to get a Game Pass, it might make sense to wait until the next summer discounts in Steam.
I'm not sure you get what I'm trying to convey here.
Just to make it more clear, for comparison, since we're talking about relative worth:
Minimal wage in Poland, 2021: 2061,67 zł.
214/ 2061 = 0,10
Same in closest Euro country to mine, Germany: 1672€
60/1672 = 0,03
Are you starting to see where's the problem with forcing ~60$/€ equivalent in countries with weaker economies?
What is not true? Sorry but I'm not going to give here a lecture about basic economics.
Whether quality and polish is there is not a scientific fact, but a very controversial thing and a lot of people don't think quality nor content presented justifies the full price. At very least you shouldn't use words like 'clearly' because it just sounds silly and it's hardly any argument.
I mentioned unknown like campaigns, but things like lack of map editor at launch, mediocre set of options to customize skirmishes or hardly impressive technical side are things known to us, and they are, and should be, taken into consideration. Not even God da.mn cheat codes will be available at launch. Cheat codes.
Where did I request to lower the price? I've only said that what's going to be provided might not justify the price. How is that a request to lower it?
It could be half the price and I still wouldn't buy it day1, I have to finish DLC content for 2DE, I'm going to wait for mod and map tools and at least some number of post-launch patches.