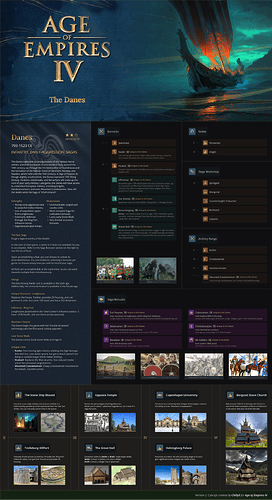 Link to full resolution image.
What makes this faction stand out?
The Saga "quests" are a new and refreshing way to give players interesting strategic choices. Additionally, powerful early infantry raiding is an archetype not yet explored in AOEIV.
Notes on the concept:
I chose to call this faction "The Danes" over alternatives like "Scandinavians", "Vikings", or "Norse" because of the following 3 reasons:
Denmark was the dominant power in this region for most of the medieval period, especially with the Kalmar Union.
Danes are already represented as a faction in the campaign.
Alternative names are slightly misrepresentative. "Vikings" and "Norse" don't do a good job of representing the later ages, while "Scandinavians" is too vague.
The Danes in this concept are very similar to the Ottomans - a relatively base neutral civ, with a selection of Tempo bonuses to choose from as they progress in the game.
The new Saga system relies on feats, which is like a selection of quests, and depending on which feats the Danish player prioritizes, they can win significant bonuses for their faction.
I think it'd be cool to see a Danish player "go a little out of their way" to accomplish feats in a competitive match. It keeps the opposing player guessing, and mixes up the play style, making the faction feel more fresh.
As usual, I did not touch Water with this concept. All civs in the game should be able to stand on land-only maps. Though as you can imagine, Viking longships would be the Danes' go-to unit on the seas.
The "Ring Fort" mechanic is an influence bonus related to Longhouses. This gives the Danes some early defensive options, while making them less Keep-focused as a civ.
Mounted Crossbows were a common unit across medieval European militaries, and were particularly prevalent in Scandinavia, so I felt this was a good faction to get this unique unit.
References
For this concept I took inspiration from Kameho88v2's Norse concept, and squigthedude's Dane concept, and googlesomethingonce's Viking concept. Once again, the image of the flag comes from Seicing on the AOE4 official forums. The cover art was generated through Midjourney, and then heavily edited by me.
More Concepts
For more concepts please check out my website: Chilly's AOEIV Civilization Concepts