It seems like the topic of armour, range resistance/ melee resistance is greatly misunderstood by many players of various skill levels. In this post I will demystify the mathematics behind the armour system in Age of Empire III.
Let us start with the basics- How does armour work? Every unit has one type of resistance. Ranged resistance, melee resistance, or (rarely) siege resistance. The game engine takes all incoming damage, and if it is the type of armour that is resisted, decreases the damage by that amount. If a unit has 30rr, any incoming damage is reduced by 30%. This is true of all the resist types. This does have some interesting consequences. When a unit has has 30 range resistance, it does not mean it has 30% more ranged hp.
Damage being resisted actually ends up behaving as a reciprocal value- in that you have to divide the original hp by the net damage done after armour is accounted for. This leads to some extremely counter intuitive behavior. Lets start with the basic function we can use:
The number here that we input as "x" is the total resistance as a whole number (30% is inputted as 30). The output is the amount that we multiply the base hp by in order to determine the total armoured hp.
This is the results of the function: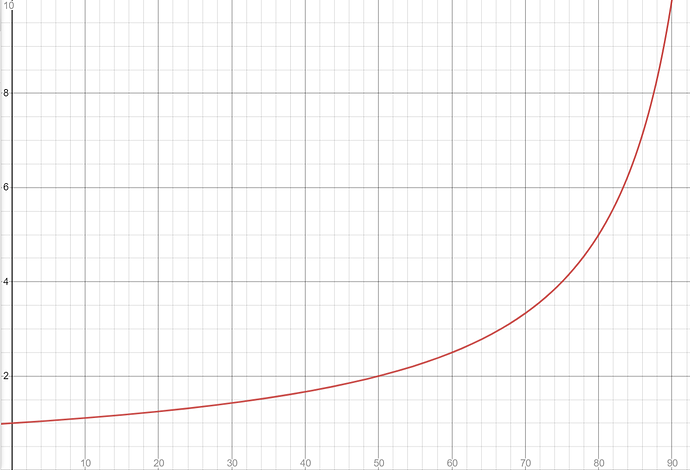 The graph starts at 1.000 for 0 armour (base hp*1.000) and ends at undefined at 100% resistance. A few basic waypoints here:
10% = 1.111
20% = 1.250
30% = 1.429
40% = 1.667
50% = 2.000
60% = 2.500
70% = 3.333
80% = 5.000
90% = 10.00
Basic example: a crossbowman has 100 hp, with 20rr. this results in 100hp*1.25 = 125 ranged hp.
Now lets talk a couple of units that we can modify the armour on, to sort of analyze exactly how significant these buffs can be.
Probably the most common armour modification that is done is on the chinese cavalry, meteor hammers and iron flails. I'll just stick with flails here as an example, since the math holds true for meteors as well.
The base stats of an iron flail are 292 hp and 30rr. This is shadowteched by 20% in the fortress age for a result of 350.4 hp. This gives a total ranged resistance of 350.4*1.429 = 500.57 ranged hp.
(please note I am using untruncated decimals for this calculation to be as exact as possible)
As you can see already, Iron Flails are damage sponges with 500 ranged hp- but let us now ship "Double Faced Armour" which adds 15% base hp and adds 35% to range resistance. This armour change is 35% of the 30% existing armour giving us 30*1.35 = 40.5% rr (displayed as 41 in the UI)
Lets math this all out:
292hp * (1 + 0.2 + 0.15) = 394.2
(base hp * veteran + card)
then factor in armour with the equation:
394.2 / (1-0.405) = 662.521 ranged hp
So this shipment actually increased the ranged hp of Iron Flails by a whopping 162 hp! Thats the equivalent of more than 55% increase from base hitpoints. You think Naginata hp was/is busted? This card has the end result of 30% more impact in age 3.
It does also continue to scale into the industrial age. Industrial Flails with and without double faced armour are as follows:
without double faced- 438 hp and 625.7 ranged hp
with double faced- 481.8 hp and 809.75 ranged hp
Yeah, a nearly 180 hp difference. Gross huh?
Of course, this has only a 15% impact on its melee HP and ability to tank artillery fire, but ranged hitpoints tends to be the most impactful for a heavy cavalry.
Now lets talk the other major armour tech, a new one to the definitive edition. "Hualcana" is an inca tech that grants a 10% extra resistance to land military units, specifically just infantry and shock infantry. There's all sorts of effects we can calculate for inca's own units (such as jungle bowmen or whatever) but I want to specifically highlight a couple of specific examples where this can be disgustingly impactful.
Lets start with the unit the "Chakram" from the udasi settlement. Its fairly mediocre but with it no longer being tagged as heavy infantry it can sorta fill a niche of being just general anti-infantry with decent damage output.
Chakrams have a base hp of 165, with 50% range resist. This gives them a total ranged hp of 165*2 = 330. Now lets pretend we're playing inca, have some bad macro and are nat rushing for the memes with some chakrams, where we tech this big button to increase their armour to 60rr. This brings their ranged hp from 330 all the way up to 412.5, or a whopping 50% increase from base hp, 25% increase total in ranged hp. Gross.
Now exclusively just for fun, lets imagine that you're playing Inca on mongolia and snag yourself the 2 Iron troop treasure after researching Hualcana. Now, Iron troops already have absolutely disgusting ranged hp (60rr or 2.5x from base hp). Normally they are:
225 * 2.5 = 562.5 ranged hp
with Hualcana this goes to
225 * 3.3333 = 750 ranged hp
If I missed anything just let me know, or if you have some armour related questions, feel free to ask!