Nobody asked for it, but I am back!
I thought it would be fun to try to design what some of my Australian units might look like.
I ran into the same issue a lot of you I think have been having, there is really no popular culture idea of what Australian colonial soldiers of the era looked like. If I didn't include the classic meme slouch hat or just reuse British redcoat uniforms, it got hard to make something that looks of the era and obviously Australian. But I gave it a go!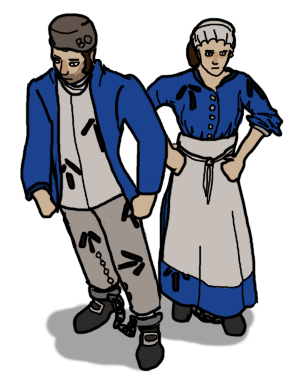 Convicts! Free settlers you get from your home city in large batches that are slower and less loyal than normal settlers - they turn into outlaws on the enemy's side if they are defeated! Convict uniforms are often shown as the crazy stiped magpie outfits with arrows on them, but those were only for repeat offenders and only late in the timeline. I tried to make my convicts more appropriately dressed but kept the classic arrows because everyone likes them. P.s. BO stands for board of ordnance, who were in charge of convicts between 1820 and 1855 and who put their initials on all the convict clothes they issued (before then convicts were just dressed in whatever they already owned).
Troopers; Australian musketeers. So, realistically these should just be british redcoat infantry. But they're already taken, so I worked off reference images of early colonial militias and came up with these uniforms. It was fun to look into what they used to wear, the militias were pretty slapdash and people just grabbed whatever they had that looked vaguely military
I know the third unit is probably too late timeline wise for AoE3. Uniforms like that were actually in use in Australia in the 1860s - about the end of timeline - but the khaki and slouch hat just "feel" too modern, I know. I considered a pith helmet as well (which was also used) but it felt a little too British I think.
On second thought though… the unique besteiro crossbow man looks very similar…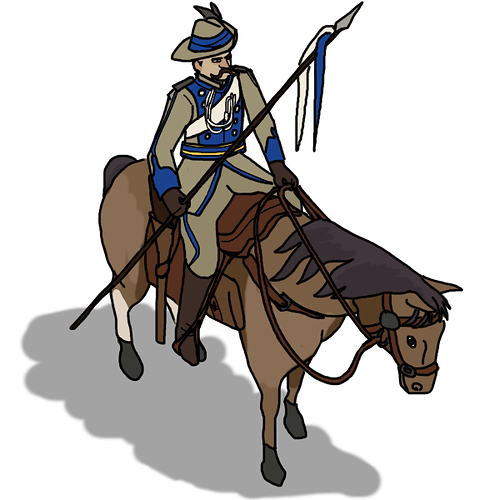 Light Horse, a unique lancer/dragoon unit (maybe?). Based on the absolutely beautiful uniform of the New South Wales Lancers. I should have probably done a de-tech'd version for an age 3 unit version as well, but I really just wanted to draw this version
One thought I had about the uniform issue would be to do something odd with the unit choices for the civ. In age 2 instead of basic musket/skirm units (with strange skins), Australia would train Marines, who would have British naval uniforms of the 1700s. Those units could be expensive but very powerful defensively, sort of like a soldado/sentinal combo. So Australia would be crippled in their ability to rush and would have to wait for later ages in order to mass cheap units for attacking (with approriate uniforms!). But maybe that's too restrictive.
Of course, any of these would work just as well as revoltion shipments instead of unique units for a civ