GAME INFORMATION
GAME BUILD

#:

Hotfix 39346 (but issue is present since Definitive Edition release)
GAME PLATFORM: Steam
OPERATING SYSTEM: Windows 10
ISSUE EXPERIENCED
Issue can be observed while playing as the Aztec and using Community Plaza's Holy Ceremony (for spawning Warrior Priests). If spawning point from Community Plaza is set in the middle of Community Plaza Warrior Priests should "dance" automatically after being spawned.
Usually it works. But quite often they stand idle just next to Community Plaza doing nothing. It is really painful and distracting to check every time WP is spawned to see if he was willing to come inside or not (and move him manually if not).
This is common knowledge that this feature sometimes doesn't work. Aussie_Drongo in one of his videos even advised to not use spawning point and manually move every WP inside Community Plaza. I don't think this is acceptable. If some mechanics is implemented in the game it should works correctly every time.
FREQUENCY OF ISSUE
33% of the time / matches I play (SOMETIMES)
REPRODUCTION STEPS
Here's the steps to reproduce the issue:
Play any game as the Aztec civilization
In II Age use Holy Ceremony and set spawn point inside Community Plaza
Check if newly spawned Warrior Priests automatically starts to "dance". Make a few attempts.
EXPECTED RESULT
If spawning point is located inside the Community Plaza every WP should automatically be tasked to "dance". No action from players should be needed.
IMAGE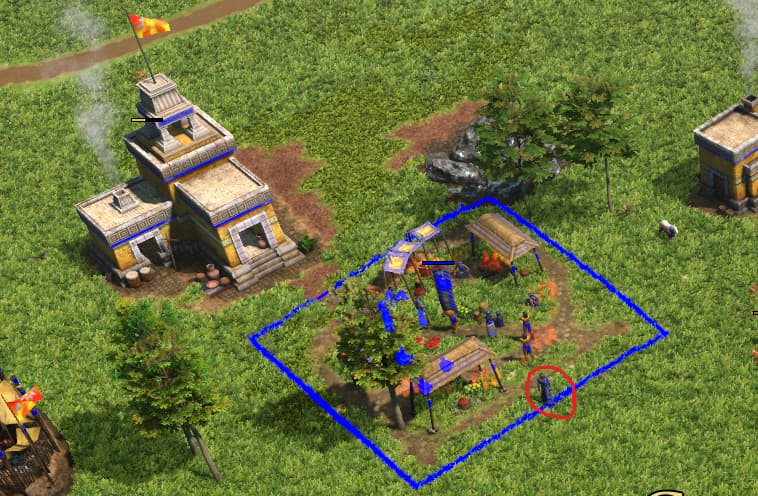 GAME FILES (SAVE / RECORDING)
First spawned WP didn't go inside Community Plaza automatically, neglecting his spawning point (4:18 game time). I moved him manually inside. Then I set target point again into Plaza. Following WP were spawned correctly.
Aztec_CommunityPlaza_WP_issue.age3Yrec (4.5 MB)
Please, fix this issue. This one is really annoying. And it is present in the game since the release.