GAME INFORMATION
Bug # 1: Trying to remove "Fulani Archer Combat" card from "Land" deck causes game to crash to desktop.
Bug # 2: "Zinder Kanuris" card shows the number 11 but only delivers 9 units (upgrades are not normally counted)
Bug # 3: "Oromo Migrations" States: "Ships 1 Villager, Ships 1 additional Villager for each one you have last so far… Delivers 1 Villager, Delivers 0 Villager (change to none lost yet).
***GAME BUILD #: V. 100.12.38254.0
*GAME PLATFORM: Steam
*OPERATING SYSTEM: Windows 10
ISSUE EXPERIENCED
For the CTD bug I emptied out the land deck (Hausa), noticed that there was still one card left for some reason, looked for it, clicked to remove it " Fulani Archer Combat" and game CTD's.
For the rest of the card bugs its kind of self explanatory
FREQUENCY OF ISSUE
How often does the issue occur? CHOSE ONE; DELETE THE REST!
100% of the time / matches I play (ALWAYS)
REPRODUCTION STEPS
List CLEAR and DETAILED STEPS we can take to reproduce the issue ourselves… Be descriptive!
Here's the steps to reproduce the issue:
See description for issue experienced
Repeat same steps for issue experienced
Game will crash to desktop
EXPECTED RESULT
What was SUPPOSED to happen if the bug you encountered were not present?
Not crash
IMAGE
ALWAYS attach a PICTURE (.jpg, .png, .gif) or VIDEO (.mp4, YouTube link) that highlights the problem.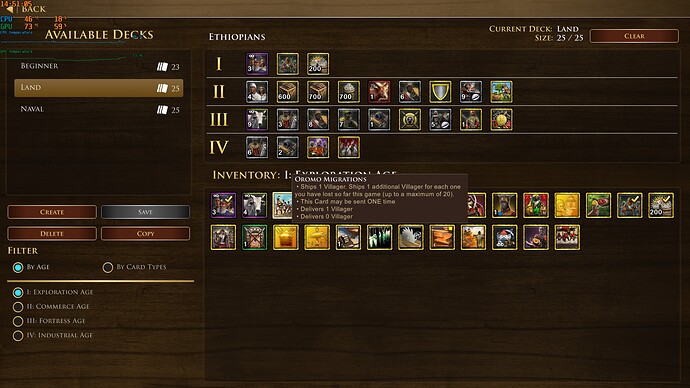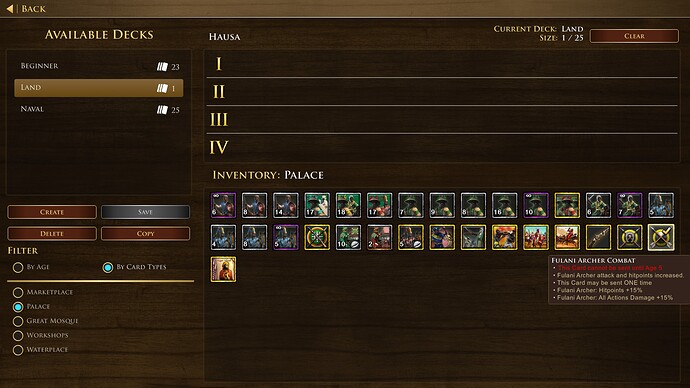 GAME FILES (SAVE / RECORDING)
Attach a SAVE GAME (.aoe3Ysav) or GAME RECORDING (.aoe3Yrec) of the match where you encountered the issue. Link it below if using an external file service.