For you guys the game camera have good settings for an RTS?
The cameras that were featured in the April trailers seem to be a little farther off the ground. Having this ZOOM OPTION available in the settings would even be an easier solution to solve the criticisms of the cartoon model of the units, besides making the game more similar to competitive RTS games like starcraft 2 and AoE2.
When something is seen from afar the detail becomes more irrelevant, and it even makes sense to be as large as the strings on AoE2's projectile weapons are made.
Look at this example of the Genoese Crossbowman, this rope IS HUGE, but in the game look's great!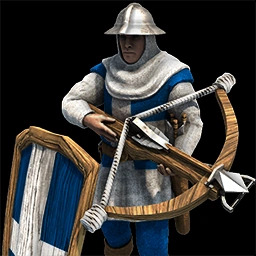 ISOMETRIC!
Also we can talk about the isometric camera, it is this camera as if it were from a more distant satellite where you see everything with the same perspective. I'm an AoE2 player and believe it's much easier to understand the game when all the units in your field of view are in the same perspective.
In AoE 4 I notice that it has a very wide-angle camera,
I don't know if implementing this type of camera option is something very difficult to do at the point where the game is. But I believe that for this kind of games it is possible to make isometric 3D like the examples below:
Iron Havest

Starcraft 2
With this configuration each player can adapt better in the way they prefer, whether it is an AoE3 player who prefers to see the troops in 3d or an AoE2 player who prefers the charm that the isometric provides.
What do you think of this solution?
Let's talk about it!