GAME INFORMATION
These details are CRITICAL; DO NOT skip them or your issue may not be reviewed.
**GAME BUILD

#:

current
GAME PLATFORM: Steam
OPERATING SYSTEM: Windows 10
ISSUE EXPERIENCED
DESCRIBE THE ISSUE IN DETAIL (below). LIMIT TO ONE BUG PER THREAD.
Hotkeys seem to have reverted to old school where "q" then "e" builds a house. This happened for both my brother and I, but our friend has not had this issue. When we try to change to back to the grid setup, changing the hotkeys in the settings doesn't work. Going to "definitive edition" hotkeys doesn't change, it stays as "q" "e" to build a house among many others not being grid set up. We tried changing to HD and nothing seems to change there either, so the hotkey profiles seem to be messed up?
FREQUENCY OF ISSUE
How often does the issue occur? CHOSE ONE; DELETE THE REST!
Ongoing and we can't seem to get the hotkeys to change to definitive profile, if that indeed is the "grid" style setup.
REPRODUCTION STEPS
List CLEAR and DETAILED STEPS we can take to reproduce the issue ourselves… Be descriptive!
The only thing I can think of is that my brother and I enabled some mods, and my friend did not. We have since disabled them, but the bug persists. Mods I had tried installing: Small Trees, Mouse Cursor Set, Useless Plants Remover, Interactive Build order Guide, Advanced Idle Pointer, SmoothieDE with Light Grid, Impoved Tech Tree UI, and No Snow. I have since disabled the mods. However the problem persists.
Here's the steps to reproduce the issue:
Go into options.
Click "villager build" see that Fish Trap is "Q", and house is "E" which is not what we previously used.
Choose Default says "Definitive Hotkeys" Click this and reselect it, hit reset all, nothing changes.
4.Try changing to "HD Hotkeys" again, no hotkeys seem to be changed.
Try Classic HOtkeys, same, nothing changes.
"Left-handed Hotkeys" does indeed change the hotkeys.
Change back to "Definitive Hotkeys" appears to change hotkeys back to "classic edition" instead.
EXPECTED RESULT
I expected switching to "Definitive Hotkeys" would create a change in the hotkeys such that for things like building with a villager, the optioins for villager actions would be in a grid layout in relation to the keyboard.
IMAGE
ALWAYS attach a PICTURE (.jpg, .png, .gif) or VIDEO (.mp4, YouTube link) that highlights the problem.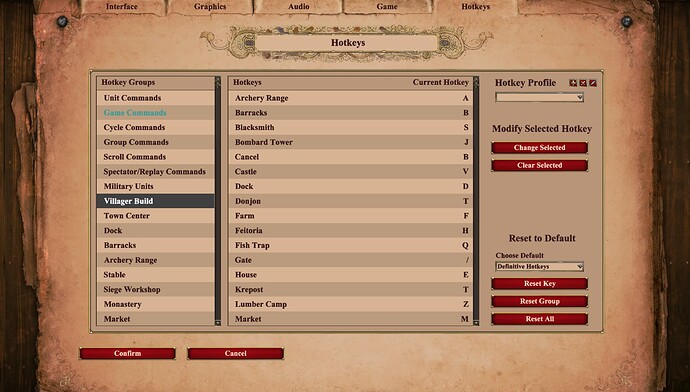 GAME FILES (SAVE / RECORDING)
Attach a SAVE GAME (.aoe2spgame) or GAME RECORDING (.aoe2record) of the match where you encountered the issue. Link it below if using an external file service.
This is not an in-game issue.
*