This is a Cheyenne Dog Man, as they are called in Cheyenne (Hotamétaneo'o).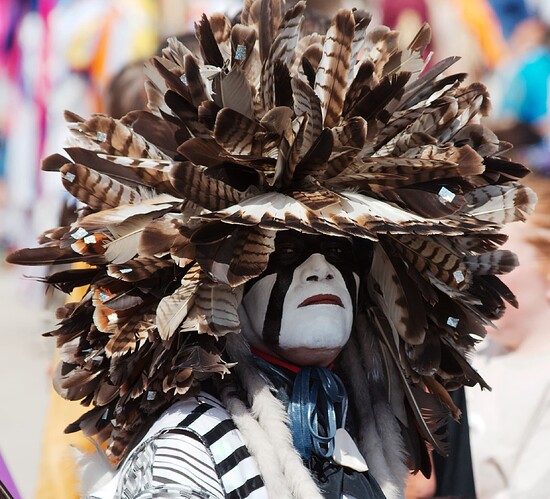 Then this is the in-game Cheyenne Rider.
Are they not clearly meant to be the same thing?
Let's rename the Cheyenne Rider to Cheyenne Dog Man, since that is what their name is in Cheyenne.
(Btw, "men" is being used in the all-encompassing effect that it gets used in the word "mankind" - Women could be Dog Men as well, but since the models and voices are all male, it'd serve as both a more accurate statement to what the in-game representation is and make them more noticeably separate from the Tokala Soldier. If this isn't a concern, then Cheyenne Dog Soldier would work just fine.)
---
On a slightly related note, can we rename the Tokala Soldier to Kitfox Soldier? When translated into English, Lakota terms don't remain in Lakota, they get translated into English - hence why my family name is White Bear Claws, not Matȟošaké Ska. It better translates how the name is heard and understood when spoken in Lakota.
This, also, opens a whole discussion about the names of the rest of the Lakota military. There's references to the Bare Lances and the War Badgers, but both send more Kitfox Soldiers - Why not make a card specifically called War Badger and have it be a powerful upgrade to the Axe Rider, and give it a new name? Replace the Bare Lance with the Crow Riders and make it a powerful upgrade to the Bow Rider or Rifle Rider, along with a name change.
Just, please, there's whole warrior societies the Lakota had that could stand to be used here. Y'all go out of your way to make Landsknechts, Uhlans, and Janissaries, but you couldn't be bothered to make the Crow Riders, the Bare Lances, the Strong Hearts, the War Badgers? The Shield Soldiers, the Elk Soldiers, the Bowstring Soldiers?
Can we get a rework of the Lakota where the actual military history of the culture is used to make the military aspect of the civ?
The other societies of the Cheyenne could be included with a rework of the North American Natives, since they're now extremely underwhelming in comparison to the African Natives, let alone the European Royal Houses.
---
So which name would y'all prefer for the Cheyenne cavalry unit?
Cheyenne Dog Man
Cheyenne Dog Soldier
Cheyenne Rider