Counterweight trebuchet was invented by Muslims, and then the Mongols introduced it into the Chinese battlefield and used it to capture China's Xiangyang, that is, the special unit of the Mongolian campaign.
However, counterweight trebuchet was almost never used in ancient China, and traction trebuchet has been the mainstream for thousands of years.
Every city occupied by Mongols in Central Asia relies on counterweight trebuchet. In other words, Mongolian talents are loyal users of counterweight trebuchet, while China has almost never used counterweight trebuchet.
In addition, through the early game promotional films, I noticed that China seems to use traction trebuchet. Why should it be changed? Therefore, I suggest: China and Mongolia should exchange counterweight trebuchet and traction trebuchet.
Although the Chinese first invented mangonel, in ancient China, the counterweight trebuchet was never the mainstream, and the manpower driven mangonel was the mainstream.
At the same time, the Mongols have used the counterweight trebuchet much more than the Chinese. Almost every city they captured in Central Asia depends on the counterweight trebuchet. The Mongols captured Xiangyang City in 1267, relying on trebuchet,Mongolian talents are loyal users of the counterweight trebuchet, not China.
It can even be said that counterweight trebuchet gained great reputation in the siege of Xiangyang City, which made the Chinese people see the power of counterweight trebuchet for the first time.
However, in aoe4, Mongolia does not have counterweight trebuchet in either battle or conventional battle mode, but uses China's manpower driven mangonel, which is undoubtedly a very basic mistake. It is strongly recommended to replace the trebuchet and mangonel of the two civilizations.
More importantly, through the Mongols as the intermediary, Chinese talents briefly used the counterweight trebuchet for a period of time, which was soon replaced by gunpowder weapons. In fact, the whole of Asia, including the Japanese and Koreans, is also dominated by human driven mangonel, so it is suggested that China and Mongolia exchange mangonel and trebuchet, At the same time, the later Asian countries also adopt the manpower driven mangonel (except Mongolia).
The counterweight trebuchet is called "回回砲" in China, which means the Muslim siege weapon,It is an imported product and non mainstream,It was introduced into China by the Mongols as an intermediary, but it was only used by the Chinese for a very short period of time. Therefore, in aoe4, the Mongols use the manpower driven mangonel, while the Chinese use the counterweight trebuchet, which belongs to the most basic mistake.
Therefore, it is suggested that China and Mongolia exchange mangonel and trebuchet.
chinese:

japanese: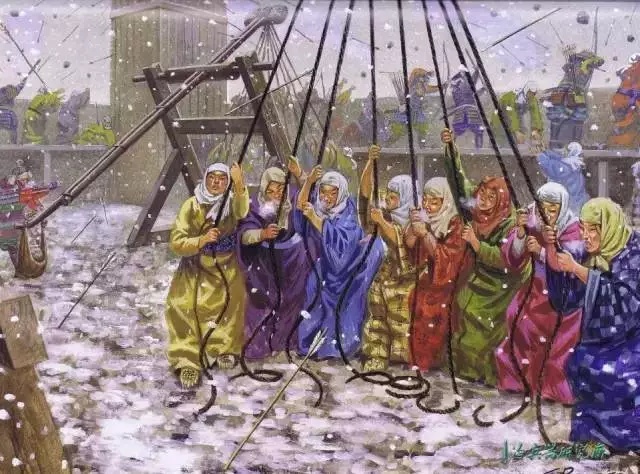 Mongols: