Anatolian Turks(1040-1571)
The Anatolian Turks will have some unique features that will give them advantage in both defense and offense. The Anatolian Turks will be able to adopt in any kind of scenarios or situations.
The Anatolian Turks will represent the Seljuks(1040–1157) and Ottomans(1299-1571) until the battle of Lepanto.Also includes Anatolian beys. At the beginning they will have features indication their migration to Anatolia and Levant and in the later ages (III, IV) they will play like settled empire and will have technological advantages.
Civilization Bonus
Migration
In Age I and Age II the villagers will be created automatically and free of cost at a slower pace. The production will stop when reaching age IV or reaches a limit of 45.
Gunpowder specialist
gunpowder units will have additional range and gunpowder siege units does additional damage against buildings.
Cavalry reform
Horsemen upgrade are free
Sultanate of women
Turks does not need to build landmarks to age up. At the very beginning of the game players has to build a landmark called "Sultans Harem". player can age up by choosing a Haseki Sultan from this landmark. Haseki Sultan were the head of turkish harem , the sultans wife and also mother of future heir. Haseki sultans were greatly involved in ottoman politics and decision making. So choosing a Haseki Sultan will age up and give the player additional features. Each time aging up new structures will be added to the Harem like the abbassids house of wisdom.
Influence
The Sultan organizes weekly feasts for the ottoman soldiers. Barracks near the Sultans Harem can produce units with 10 less food
Unique Units
Akenci horse Arches : Generic Horse archers much like Rus but deals more damage at close range and has very low hp (Age II)
Jenissary : More powerful version of handcanoneers
Galley : The Cannon vessels of Turks. smaller and slower. Has smaller sale and oars. but has greater range than other cannon ships
Great Bombards : Very heavy bombards that has more hp and range than generic bombards but takes longer to deploy and pack. A bigger version named basilica can be found in ottoman mission "siege of constantinople".
Unique Technologies :
Age II :
Town Center
Ox cart : villager production speed is increased
Archery Range
Sipahi(locked): Akenci horse archers recieve more hp

Flanking maneuver(locked): Akenci horse archers has charge ability that boosts speed
for 5 seconds. great for closing up to enemy to deal bonus
damage or getting away
Age III :
Archery Range
Zihgir : Akenci horse archers has more firing speed
Stable
Bludgeon(locked) : Knights are now equipped with maces that slow enemy units and does great damage to siege engines
Barracks
Kilij(locked) : Man-at-arms equip with kilij sword. greatly increasing their attack speed
Age IV :
Dock
Boarding crew: Turkish arrow ships are now able to board and capture enemy ship
Town Center
Additional housing(locked) : Villager automated production limit is taken off and player can turn automated village production off anytime. also can turn it on
Dock
Naval reform(locked) : Galleys now have bigger sails and no oars making them very fast.
Haseki Sultans
As stated before Turk players have to age up by choosing a Haseki sultan. Here are the Haseki sultans and what features they unlock :
Age II
Karamanid princess
Towers added to the Sultans harem that fires arrows at enemies.
Unlocks Sipahi technology in archery range.
Kayi princess
Towers added to the Sultans harem that fires arrows at enemies.
Unlocks Flanking maneuver technology in archery range.
Age III
Dulkadirid princess
Guardians quarters added to Sultans Harem that dispatch 15 Guardian Kapikulu infantry that attacks nearby enemies. Kapikulu are heavy infantry that deal area damage. can not attack ranged unit and cannot go further away from the Sultans Harem. Lasts for 15 seconds and cooldown time is 10 minutes. doesnt need housing.



Kapikulu depicted in 1212 AD mod in total war attila



Kapikulu inspired unit in Conquerors blade game



I tried to depict Kapikulu in AOE 2 using Zhenshi mod

Unlocks Kilij technology in barracks.
Serbian princess
Foreign affairs added to Sultan's Harem. A structure where serbian princess can deal with foreigh affairs. The structure has ability to call for Serbian assistance. If the ability used 15 Serbian Pronijar cavalry are dispatched and can attack any unit all over the map. Ponijar are heavy cavalry of Serbia that takes double anti-cavalry damage but has more damage than knights. Lasts for 10 seconds and cooldown is 15 munites



Pronijar in 1212 AD mod

Unlocks Bludgeon technology in Stable.
Age IV
Beylik princess
Nursing House added to Sultans Harem. Unit garrisoned inside heals much faster.
Unlocks Additional housing technology in Town Center.
Automated villager production restarts.
Venetian princess
Merchants Guild added to Sultan's Harem. Generates Gold mines around it. replenish when depleted
Unlocks Naval Reform technology in Docks.
Jenissaries get the ability to deploy pavise shields.
Wonder : Suleymani Mosque

Byzantines(555-1453)
Byzantines were the Eastern half of the fragmented Roman empire. Through time they went through cultural and religious change and became a separate entity. Even after fall of Rome , Byzantium survived for more than 1000 years and left its mark on history. Byzantine culture was a mix of greek and latin cultures.
In AOE 4 the Byzantines are a defensive civ. Their unique features let them survive for long and devastate their enemy in late game with flame weapons.
Civilization Bonus
Levy
Byzantine army consisted of many levied warriors from their provinces making spearmen and foot archers cost 25% less.
Quick Restoration
Byzantine engineers were very affective during sieges and were able to repair damaged structure very fast. Villager repair structure very fast.
Strong Architecture
Byzantine buildings have +20%/+30%/+40%/+50% HP in AGE I,II,III and IV
Social and military reforms
Byzantines age up 33% faster
Greek Fire
Has access to fire damage dealer units. Archers can fire flaming arrows without researching the technology in Arsenal
Influence
Roman roadwork
Byzantine structures are interconnected with auto generated stone paved roads that increases unit speed including enemy units. Villagers can go from one location to another very fast using this road system
Unique units
Cataphracts : Highly armored heavy cavalry that replaces knights. Negates anti-cavalry damage by 50%

Pyro : Flamethrowers with area damage.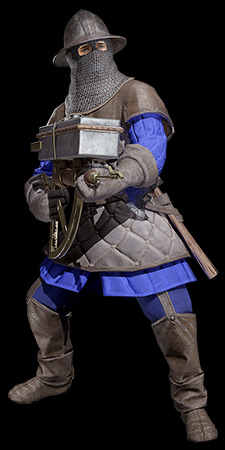 A Pyro also called Siphonarioi in Conquerors Blade

Greek FireThrowers from Total war Medieval II
Fire dromon : Close range Military ship. Dealing damage for a long time sets the enemy ship on fire. Fire deals damage for a long time to the affected ship. Fire gets put out after some time and it can be instantly put out by taking the ship near a friendly dock. The affected ship must be out of battle to put out the fire.

Unique Technologies :
AGE II
Dock
Ship Mill : Fishing boats are faster
AGE III
Barracks
Varangians: Spearmen get more hp . Spearmen graphics changed to Varangian unit,
Blacksmith
Pilum: Man at arms throws a heavy javelin at enemy unit before engaging in melee. The javelin does anti-armor damage and slows the target. 5 min cool down.
Arsenal
Fire Bomb : Instead of burning oil, keeps and towers throw fire bombs at close target that deals area damage for a short amount of time. good against siege engines
AGE IV
University
Enhanced Siphon : Fire dromon and Pyro fire range increased
Road blocks : Enemy units no longer gains speed from byzantine path system.
Dock
Secret Ingredient : Fire dromon now does area damage. The fire burns for a long time in water and any ship in that area gets damaged. Fire ships now also leave an area of flame after suicide attack.
Basilica
Orthodox influence: Basilica creates monks faster
Keep
Logistica: Cataphracts do +4 damage against infantry.
Landmarks :
Age II :
Water Reserve Aqueduct (defensive landmark): Buildings can not be set on fire
Age III :
Palatinae House (Military landmark): Can produce Cataphracts. Cataphracts produced from this structure has +2 attack against infantry
Age IV :
Basilica of the Cardinal (Religious landmark): Units near this structure can not be converted
Palace of Constantinople (defensive landmark) : A keep that has fire bomb and Springald installed
Wonder : Hagia Sophia Church