GAME INFORMATION
Build #66692
Steam
Windows 11
ISSUE EXPERIENCED
Color palette mods do not change the color of units and buildings.
However, one distinct exception is for units that have been reskinned by another mod. For example, I run a mod for my Cataphracts that changes the gold parts of the model to a dull silver color. These Cataphract units are fully affected by my color palette mods. All unaltered units and buildings are unaffected by the color palette mods.
The attached image shows Cataphract and Centurion units together. Note that the Cataphracts are recolored by the active color palette mods and the Centurions are unaffected.
FREQUENCY OF ISSUE
This issue occurs 100% of the time I play.
REPRODUCTION STEPS
Here's the steps to reproduce the issue:
Subscribe to any color palette mod.
Start any match. The colors will be unchanged.
Optional:
To see changed colors on reskinned units, subscribe to a unit retexture mod in addition to a color palette mod. The one I use is the Cataphract Reskin (Low-Visi) mod by vierklee.
Start any match. The colors for all unaltered units and buildings will be unchanged. The colors for the reskinned unit will be changed.
EXPECTED RESULT
All units and buildings should be colored according to the color palette mod activated.
IMAGE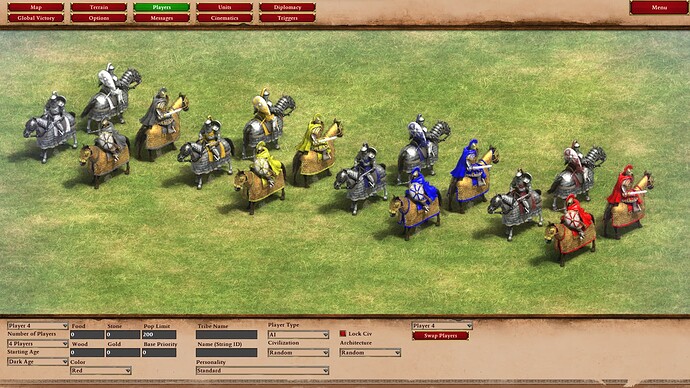 GAME FILES (SAVE / RECORDING)
No game files were necessary to illustrate this bug.