Here's the thing: having these pointless timed events for cosmetic unlocks just doesn't make sense to me for the remaster of a 22 year old game. I don't want to rant and I'd like to keep this rather short but I really get the sense that the people who came up with this system don't really understand how this just doesn't work… like at all. Basically this whole event stuff ends up feeling anti consumer while it should be about having some extra fun and "lols" with the game.
The main reasons for why the system is terrible:
Timed events don't really work for a game as old as this. As somebody who plays somewhat regularly in campaigns and skirmish I usually just miss most of this stuff or notice it too late. A 22 year old game's cosmetic events is not something that most people pay attention to.

No, I don't want to do specific things or "challenges", I had time to find out how I like playing Age of Empires, I just want to continue the campaign where I left off or just play some skirmish. One of the biggest reasons why I love Age of Empires is how much freedom you're given when it comes to approaching it: you can play the campaigns, skirmishes against the AI, come up with crazy custom scenarios, play online in a ton of different modes etc. The idea of timed challenges demanding when and how you play undermines this concept so obviously that honestly it's a bit baffling that anyone thought that doing this would fit the game.

The events are just too short, like 2 weeks or something like that. Even when it comes to f2p games that live off systems like this a battle pass is usually going on for months.

Even if you do decide to participate there is a time limit ON TOP OF the initial time limit and you can only accomplish one thing per day. That's awful and I really hope I don't have to explain why but here's a nice argument: even the worst, grindiest f2p games don't do this, they just don't because telling the player "okay go away now, come back tomorrow" is just bad. Like why do that?

This is also somewhat connected to the age of the game: a ton of new games do these stupid events now so they are the last thing I want to see in a game that I return to basically because it's a comforting, classic masterpiece. AoE 2 should be above current trends.
So long story short: this thing has to go in my opinion, it should be replaced with something that makes sense. Shockingly the first game that comes to mind in doing this right is another Microsoft produt: the Halo Master Chief Collection. The MCC doesn't care when and how you want to play the game, you can go back to past cosmetic seasons and just… unlock stuff… by playing any of the available content. Why can't I just select an event that I want to get stuff from, play any mode, complete a game and just unlock the thing I'd like?
Also I know that Microsoft is doing this to artifically bump the player counts from time to time but here's the thing: the game doesn't need that, it's doing really well without any of that tinkering. I can't say this enough: Age of Empires 2 was alive and well for more than two decades without any timed events. It was alive even in the dark ages when Microsoft didn't care about it.
And really the weird thing about this is if any of this worked fine then I guess I'd have nearly everything unlocked. I played around 150 hours since the game came out and I'm a fairly regular player yet my page for the event mods looks like this: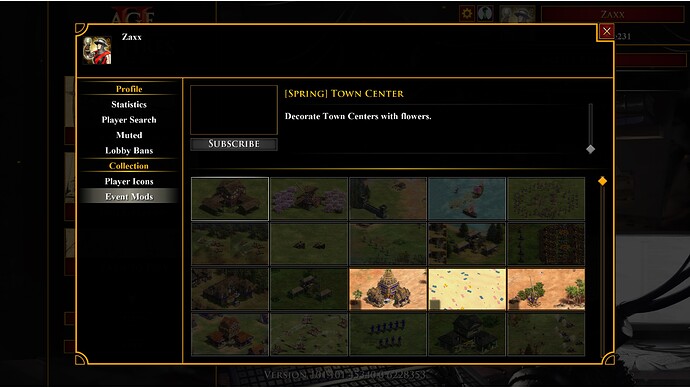 I just don't see how that's normal.