Considering we have 9 more civs to choose from, I wouldn't be surprised if 2 of them are indigenous peoples from North America.
Now, I don't know which ones they might be, it's not the point of this post, and I don't really care either, but
Considering they can't use horses, and the eagle warrior is already an anti-archer unit that the other no-cav civs use (the Meso), and there are clear design intentions with eagles countering archers and jaguars, slingers, plumes all countering infantry, what are the chances that:
North American native civilizations, if they are implemented in the game, will use a tomahawk warrior as their early scout unit, which has 0 range in dark, 2 range in feudal, 4 range in castle, 6 range in imp, as a ranged infantry unit (that counters infantry), thereby filling the role that the current Meso Unique Units fill in for the no-cav civs, in dealing with infantry, but also not being truly a ranged unit, at least in the early stages of the game, as that would be too OP for drushing/laming. So it's like a gbeto or a throwing axeman, just with incremental range to ensure it's not overwhelming in feudal and castle.
And, as a takeaway from that, their UUs will be focused on dealing with archers, if I am to follow aoe3 we might see… a Mantlet maybe? As an UU? For the ones who don't know what it is: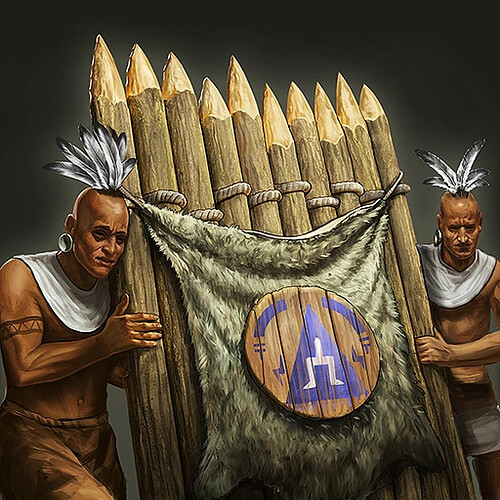 For one of the civs, and then for the other civ, maybe some sort of unique skirmishers? Like the imperial skirm upgrade of Vietnamese, or the genitour of Berbers?
Also do you think they will get an unique mechanic to "recruit" european units in a certain way, maybe through an unique trade workshop building that lets them train Knights, Hand Cannons and Bombard Cannons for an increased gold cost?
Just a bunch of thoughts, don't take them too seriously. Playing a bit of a guessing game