The unit portrait, coat of arms and monument are average. Meanwhile the most disappointing are the craig mullins compilation and unit counter charts.
What the wololo?

That's it, a single png image for the compilation art.
Meanwhile the unit counter chart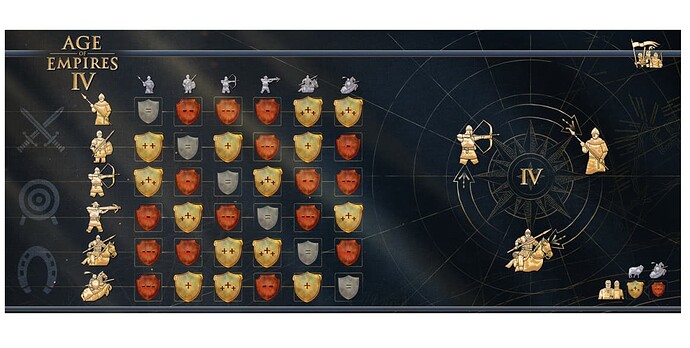 I dont even understand the chart, no label no description.
Overall the digital deluxe items are rushed. I have to check the quality of the soundtrack dlc yet.
Added my Steam Discussion feedback:
To World's Edge and those thinking before buying the Deluxe Edition,

The "art compilation" from Craig Mullins and the unit counter charts are very disappointing. Lack of polish and kinda scammy just like Warcraft 3 Reforged promotion. I didn't expect a single image for the art compilation and on top of that it's like an intern who combined the images.

The soundtrack DLC is good but it lacks the full version of the theme for each civ. Only the Rus soundtrack is more than 10 minutes.

The coat of arms, portrait and monument are also sub-par. Atleast they could have given us 3 versions of cosmetics similar to Starcraft 2's digital deluxe items. There is nothing "prestige" in buying this edition.

TL:DR Don't buy the Deluxe Edition. It's like I paid for the bonus "pre-order" DLC for AOE 2 DE. Wololo