In brief, these two cards are available in Age I and provide trickles from various resources.
Here are the trickles for Sumptuary Laws. A fixed amount, independent of buildings.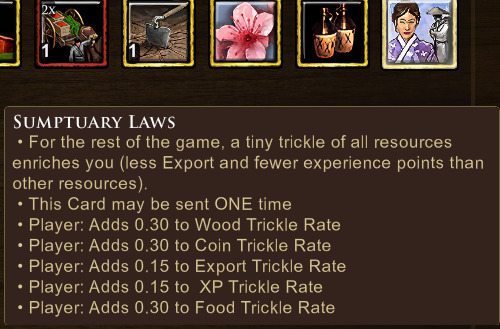 Feitoras trickles are dependent on having a TC, and multiply by the number of TCs. Because you are Portugal, you are expected to have at least the following:

Meaning that by Age I you get a total of 1.5 trickles, Age II 3 and Age III (which you will commonly see as Portugal because of their strong FF) you get 4.5 resources for second. In comparison you get 1.2 resource trickle in every age with Sumptuary Laws; yes it considers export but export even tho the trickle is worth multiple villagers, that number is distorted because of how little export vills gather in the first place (you can consult my export analysis thread for more information).
I think there is a strong case here to buff Sumptuary Laws in some way and perhaps we will even see it in the meta because of its usefulness, just like Feitora. The effect would be amplified by the fact that more than one civ possesses this card.