GAME INFORMATION
These details are CRITICAL; DO NOT skip them or your issue may not be reviewed.
GAME BUILD

#:

45340
GAME PLATFORM: Microsoft Store
OPERATING SYSTEM: Windows 10
ISSUE EXPERIENCED
DESCRIBE THE ISSUE IN DETAIL (below). LIMIT TO ONE BUG PER THREAD.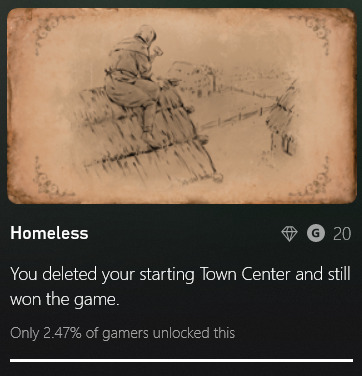 I got these achievements because of bugs, not skill so I don't deserve them, is there any way the devs can take them away and also fix the bugs?
FREQUENCY OF ISSUE
How often does the issue occur? CHOSE ONE; DELETE THE REST!
100% of the time / matches I play (ALWAYS)
REPRODUCTION STEPS
List CLEAR and DETAILED STEPS we can take to reproduce the issue ourselves… Be descriptive!
I'm just going to show how to reproduce the homeless achievement bug.
Here's the steps to reproduce the issue:
Start a skirmish
Delete all your things manually at the beginning
Immediate start another game and win it
EXPECTED RESULT
What was SUPPOSED to happen if the bug you encountered were not present?
Not get any achievements.