MEGA BATTLE of NICOPOLIS (The "Crusade of Nicopolis") in 1396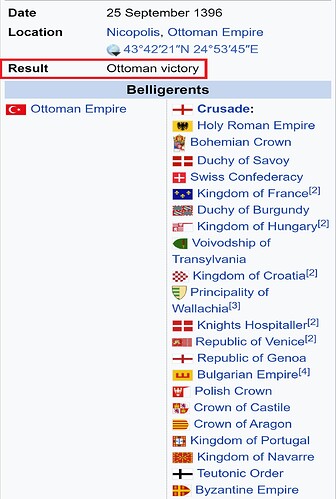 The epic mega Battle of Nicopolis took place on 25 September 1396 (well within AoE4 timeframe of 800-1500) and resulted in the obliteration of a huge allied army of Hungarian, Byzantine, Croatian, Bulgarian, French, Wallachian, Burgundian, German, Swiss, Bohemian (Holy Roman Empire), Polish, Castillian / Spanish, Portuguese, Viking mercenaries, and many other European armies, assisted by the famous Venetian navy at the hands of the Ottoman Empire force, raising the siege of the major Danubian fortress of Nicopolis and leading to the total destruction of the Bulgarian Empire.
The Battle happened after the bombard was invented in Abbasid Cairo in 1360. Ottoman armies used improved early firearms (Turkish hand cannons) Janissary and improved bombards at Nicopolis as well as Sipahi heavy cavalry. The Battle of Nicopolis took place before the arquebus was invented in Spain in 1420, before the major global technology revolution of the musket, invented in Turkey (heartland of the Empire) in 1465, and before the gigantic Great Bombard was first built in 1451 (also in Turkey). It is often referred to as the "Crusade of Nicopolis" as it was one of the largest, most consequential mega battles of the Middle Ages.
Destroyed: French, Holy Roman Empire, and twenty-four (24!) European countries all together
Victorious: the Ottoman Empire (Turks), alone