I find myself doing this a lot on black forest. (note I won the game) Especially when I'm this lucky with this map generation. Would you do the same if you saw you were this lucky in my game?
I was Persians in this game. I often try use my fishing ships to eat up the shore fish in the lake. The few fishing ships I had in the dark age helped me keep producing villages just a little bit easier. Later in the game, I even got Gillnets to make the fishing ship gather from the fish traps faster.
I often don't wait until the shore fish is gone (since I don't want to forget about the fishing ships) I just make a few fish traps in the feudal age, and set auto to reseed. They allowed me to save a ton of wood, and have a little better economy in the early game. Everyone else is only making villagers, but with just a few fish traps on top of normal farms, I found my eco great. I even saved a lot of wood for trade carts to help me in the late game when gold mines run out.
Not only did the dock provide me with an economic boom in the early game, but in the late imperial age, I made cannon galleons for defence. When they tried to break down my wall my canon galleons helped greatly holding them off. They even tried to flank me in the forest by cutting trees with onagers, but my cannon galleons stopped them dead in their tracks. I made a big wall there, and a castle for extra defence in response.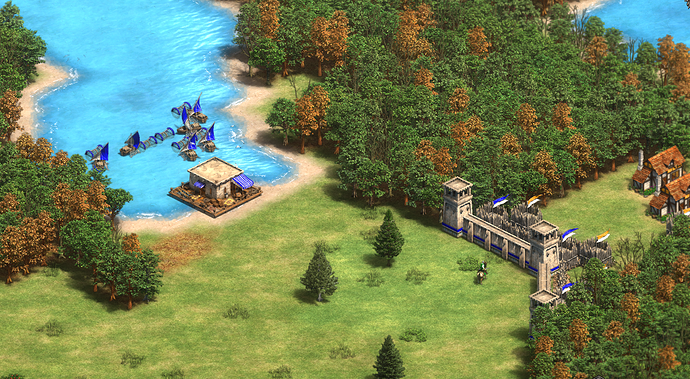 Later in the game. My defence was really great. I made cannon ships in the water.
Look at my cannon galleons.