With everybody -myself included- talking about the units visual style and animations, or the buildings-units scale, I've just seen that the population limit seems to have skipped on people's attention.
We have confirmation of 1600 max population in the map, which means a maximum of 200 per player, and most probably with some units taking 2, 3, 4 or even more (¿elephants?) population points. I understand that one of the game's targets is being playable in a wide range of systems, but am I the only one thinking that 200 maximum population per player is a bit ridiculous for a 2021 medieval war AAA RTS?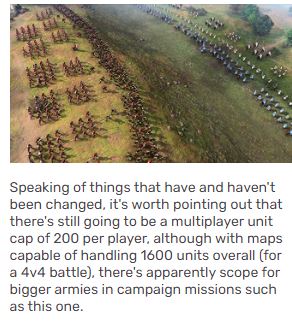 Source example - RockPaperShotgun
Honestly, having the same limitations and system than in Age of Empires III 16 years later feels kinda disappointing for me. Age of Empires II Definitive Edition has hugely pushed the limits and it has been a success -yes, 2D and older engine, I know, but it's already 2021-, and while competitive multiplayer and pro players tend to play without a big 400-500 unit limit, there's a lot of people that like to play both against the AI or with other players with a bigger limit (most of my online games are with at least 300 population limit).
Doesn't Age of Empires IV deserve real big battles between more players? What do you think about this?