It is understandable, obviously for many the American civil war is a complicated issue ( ̶a̶s̶ ̶i̶s̶ ̶t̶h̶e̶ ̶i̶n̶d̶e̶p̶e̶n̶d̶e̶n̶c̶e̶ ̶o̶f̶ ̶T̶e̶x̶a̶s̶ ̶f̶o̶r̶ ̶s̶o̶m̶e̶ ̶M̶e̶x̶i̶c̶a̶n̶s̶), but as I mentioned: in my perception it was wasted potential.
Personally, I would have liked the 178,000 "colored soldiers" who fought in the civil war to have been honored: they fought for their freedom, recognition and above all for equality. I would have liked them to create a specific unit of the USCT regiments that inspire the feeling of freedom (of which so much is talked about).

For me it was a mistake to mix "colored" soldiers with "white" soldiers as if they were ordinary soldiers, the fight for equality is part of world history and I felt that omitting that fight was an offense to all the people who intervened so that today everyone in that country can enjoy rights as essential as freedom. The truth is that I don't know the reasons for this decision and it must be emphasized that, in my particular perception, it is also a bad design criterion, taking into account that AoE 3 is a game influenced by all kinds of visual mass.

---
As additional information, the imperial uniform of the regulars is very similar to the South American uniforms of the time (I suppose it was part of the military fashion).
Argentina

Perú

Brasil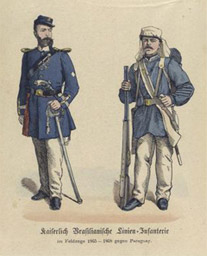 Colombia

Paraguay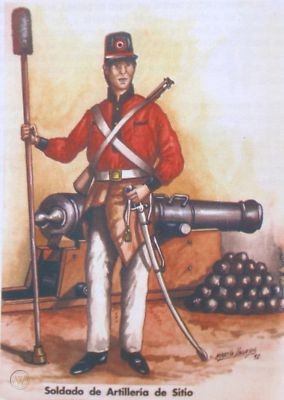 With a few modifications, the "imperial regular" model could be used to represent different musketeers from various countries in the final period of AoE 3