After seeing a few threads on the aoe3 reddit, I noticed the great imbalance in the number of maps and natives we have in the game, with a clear preference to north america and an absolute abandonment of south america, along with having too few asian minors. The proportion is as follows:
North America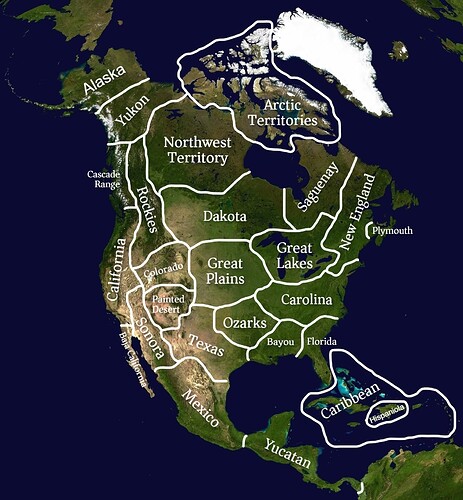 Credits:
u/JadenJames03
Maps:
Alaska
Yukon
Northwest Territories
Artic Territories
Cascade Range
Rockies
Dakota
Saguenay
New England
Plymouth
California
Colorado
Great Plains
Great Lakes
Baja California
Sonora
Painted Desert
Ozarks
Carolina
Texas
Bayou
Florida
Mexico
Yucatan
Caribbean
Hispaniola
26 maps

Natives:
Caribs
Cherokee
Comanche
Cree
Maya
Nootka
Seminole
Apache
Cheyenne
Huron
Klamath
Navajo
Zapotec
13 natives
We have north american maps and 13 natives, by far the most represented area of the game. This representation is fine, we should have other regions get to this level. I wouldn't add any more map and maybe one more native.
Asia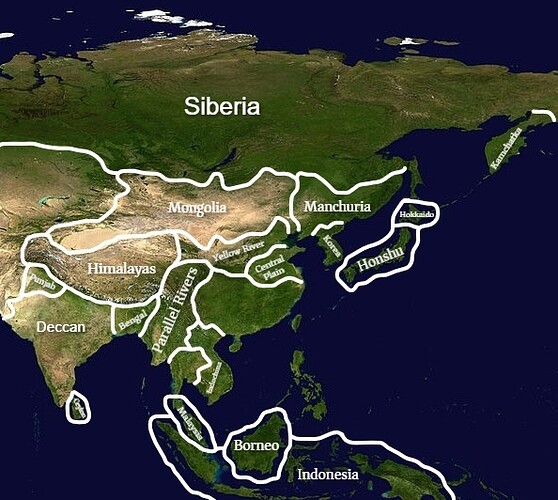 Credits:
u/JadenJames03
Maps:
Siberia
Mongolia
Manchuria
Kamchatka
Himalayas
Yellow River
Punjab
Deccan
Ceylon
Bengal
Parallel Rivers
Central Plain
Korea
Honshu
Hokkaido
Indochina
Malaysia
Borneo
Indonesia
19 maps

Natives:
Bhakti Temple
Jesuit Mission
Shaolin Temple
Sufi Mosque
Udasi Temple
Zen Temple
6 natives
Asia is in second place, with 19 maps and only 6 native minors. Also, as the map shows, there are certain areas that are not represented, or many maps that are too big compared to NA maps, which divide better the geography of the region (seriously, do we need Rockies AND Cascade Range but one big Siberia?). Also, any new native tribe shouldn't be based only on religious settlements, although one or two more religious minors might be fun. We need more asian minor relating to trade or water. Also, it would be nice to diversify the maps and add the blank spaces.
South America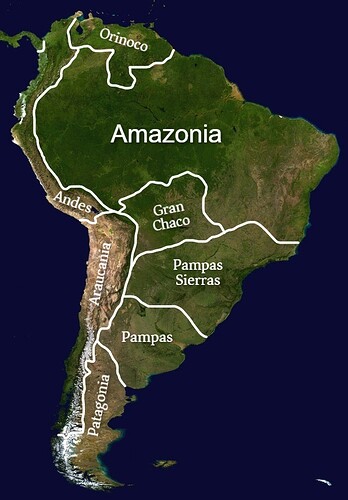 Credits:
u/JadenJames03
Maps:
Orinoco
Andes
Amazonia
Gran Chaco
Araucania
Pampas Sierras
Pampas
Patagonia
8 maps
Natives:
Tupi
Mapuche
Incas (only on Andes Upper, should be changed)
2 (3) natives
By far the worst representation in the game, which sadly is a staple of videogames when representing south america. Only 8 maps and 2 natives, this region has so much more to offer. Andes is way to big and ca be divided in two maps: the mountainous side and the desert near the coast. Araucania is big too, and also have different regions which could serve as divisions for new maps. Amazon is just an insult, the whole jugle represented in just one map: here we can have a black forest kind of map, the regular amazon map, an Amazon Delta map, similar to Deccan but with no crossings, fewer natives and a river that divides when reaching the sea. The rest are fine, but can be divided as well (again, Rockies and Cascade Range deserve different maps but not Patagonia or Pampas Sierra?). Lastly, a map of the Galapagos Island and Malvinas (Falklands) would be a nice addition to naval maps.
What do you think? Would you like more maps/natives to sub represented areas? Also, how many African maps and natives do you think we are going to get?