So, I made an African map with the new ones that were added in the preview patch: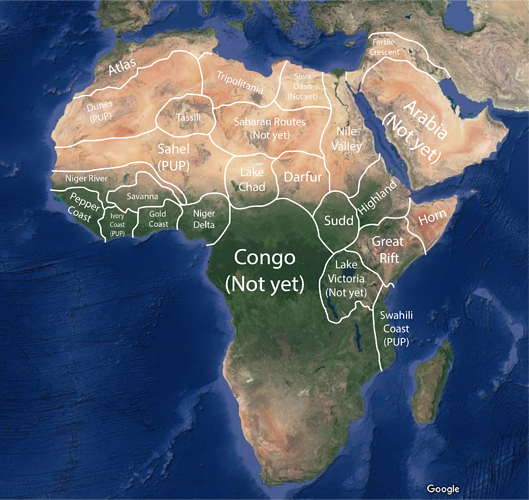 Maps:
Atlas
Tassili
Niger River
Pepper Coast
Gold Coast
Savanna
Niger Delta
Lake Chad
Tripolitania
Darfur
Nile Valley
Sudd
Highland
Great Rift
Horn
15 maps
Dunes (PUP)
Sahel (PUP)
Ivory Coast (PUP)
Swahili Coast (PUP)
19 maps with PUP

Also, we have some maps that are detailed but not present in the game yet:
Siwa Oasis
Saharan Routes
Arabia
Congo
Lake Victoria
24 maps if these ones come to be

As for natives, we have:
Akan
Berbers
Somalis
Sudanese
Yoruba
5 natives
So for Africa we have 15 new maps, with 4 more coming and other 5 probably being worked for future patches, making it 19 - 24 maps for North and Central Africa. If they decide to add south african maps, we could easily have more than 30 for the whole continent, making it the best represented map in terms of geography. As for native tribes, North America is still the best in terms of representation, while Africa becomes the second region with less natives, above south america's 2 and asia's 6 minor civs.
Still, the fact that the PUP comes with 4 new maps makes me think they will deliver with new maps, and after they are done with Africa they might take a look to the other regions. Also, I'd like to say that I feel devs have done a good job dividing the region and that I hope we can see the same kind of care if they decide to rework the others.