Note : I'm not suggesting any Militia line change.
IDK if anyone has done this before. I was always curious, is LS better against Crossbow than MAA against Archer, or are they equal now with Gambeson? This graph is an attempt to find that out.
I have used a new variable, Time to catch up the archer = Range of archer/Speed of unit. The lower the time, the better the unit against archer line. In Y-axis we have a ratio of "Number of arrows Infantry can take" and "Time to catch up the archer". I named this as "Probability of Infantry to Win" because the bigger the number, the higher the chance of infantry winning against archer.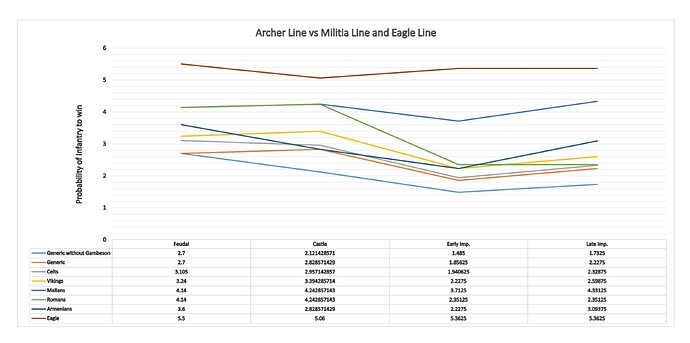 (For Armenians I considered LS in Feudal Age, THS in Castle Age, Champion in Early Imperial and Champion+Fereters in Late Imperial. I also threw generic Eagle for comparison.)
It is really surprising for me to find out that Castle Age is the best time for Militia line against Archer line. Meanwhile, that's the weakest time for Eagle line.
Worth to mention Feudal Age is the only time when Archers can just hit and run forever as Squires is available only in Castle Age. Also number of hits to take down archer is also something to keep in mind. MAA kills in 5 hits, LS in 4, THS in 4 and Champion in 3. Perhaps this is the reason I feel like Champion is actually the strongest state of Milia line against archer line.