Naval combat is severely lacking in depth and a variety of new mechanics such as melee boarding attacks, better ranged and charged attacks, and better terrain interactions could greatly improve aspects of the strategy and fun of naval battles.
Melee Attacks
Melee attacks for ships could provide greater depth to naval combat. It could be a high-risk, high-reward combat stance that allows ships to deal more damage at the expense of also taking more damage.
Boarding
A melee attack that would allow the capture ships below a certain health threshold.
Mercenary Ships (Pirates) have a chance of capturing ships below 1/2 health and have a resistance to being captured themselves
Medium Ships (Caravels, Galleons, and equivalents) have a chance of capturing ships below 1/3 health
Small Boats (Canoes and Catamarans) have a chance of capturing ships below 1/6 health
Large Ships/Canoes (Frigates, War Canoes, and Long-Range Bombarding Ships) would not have a melee stance for boarding but would also have a resistance to boarding
The attack animation would be with grappling hooks.
Melee ship attacks would snare their targets.
Ramming
A unique charged attack that replaces the Broadside for Galleys. The attack would increase the ship's speed and damage received, but inflict a large amount of melee damage.
Ranged Attacks
Reduce Overkill
There is a big mismatch in fights between large ships and smaller boats due to concentrated fire being wasted as large amounts of overkill. This could be solved in a couple of different ways:
Faster ROF - Reducing damage and increasing the ROF would cut down on the excessive overkill (this would be applicable for more generalist ships like Caravels and Frigates)
Burst Fire - Splitting attacks into multiple shots per attack similar to organ guns would give a more efficient spread of damage (this has the drawback of being hard to distinguish from the Broadside charged attack)
Broadside
Auto-Broadside - This should be the default with the option to toggle to manual control. 90% of the time, you'll want Broadsides to fire automatically like they do for Sloops. The automatic firing makes no sense as a unique feature and all ships that have Broadsides should use them automatically unless a player toggles it to manual control.
Clearer Indication of Damage - Right now, the UI gives no indication of the number of shots per Broadside and it varies widely from ship to ship. This should be displayed more like Organ Guns or Gatling Guns (attack strength x number of attacks). That might necessitate making it a burst attack, but it is functionally the same so it would just increase clarity.
Long-Range Bombardment
This attack is fine as is
Other Mechanics
Stealth for Ships
A unique type of ship with a new ability. These could be melee-only ships that specialize in boarding.
There are a few approaches to how this could be done:
Actual stealth similar to what is in AoE4. Stealth could be restricted to only when near coasts so that units that reveal stealth could actually counter it.
Diversion/Concealment similar to Quaker Guns where the ship could appear as something else (East Indiamen (from trade routes) or bluff as a more powerful ship)
Small Boats Entering Shallows
Would allow better use of fishing boats and canoes/catamarans as detailed in my previous post:
A hold position stance (anchor)
New Civilizations Dedicated to New Mechanics
Haida
Boarding and capturing ships would be perfect mechanics for the Haida since they captured dozens of European and American ships. Their original method of naval attacks was hurling large stones at their enemies, so shorter range or melee ship attacks would also suit them. They eventually incorporated swivel guns and sails on their canoes so they would still have options for Long-Range Bombard attacks.
https://www.historymuseum.ca/cmc/exhibitions/aborig/haida/havwa01e.html
Maori
Boarding enemy ships was also done by the Maori:
Morocco
Barbary Pirates operated out of Morocco and were constantly raiding and capturing slaves. Morocco could also share the Galley unit and have access to ramming ships.
Other Maritime States
Many more maritime states such as the Omanis, Javanese, Norwegians, or Koreans could also have unique mechanics
Naval Updates for Current Civilizations
Inca
Add a second type of boat. The Chincha Raft has to do all the heavy lifting for the Incan navy, and this leads to all kinds of gimmicks and balance issues. A smaller boat such as what is pictured below could take on a Canoe equivalent role and free up the Chinch Raft to have a more defined and restricted role.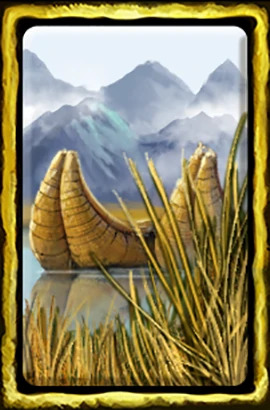 Europeans
Add the Battleship mercenary unit (possibly toned down a bit). Ships of the line were the most powerful ships of the era and it would be great to have one in the game. The Swedish card Vasa could be altered to send a heavily damaged Battleship instead of a Frigate