Cheirosiphon ("hand-siphon"), the earliest analogue to a modern flamethrower. It was portable projector of Greek fire.
It is extensively attested in the military documents of the 10th century by several authors. It first appears in the Tactica of emperor Leo VI the Wise, who claims to have invented it.
It was prescribed for use at land and in sieges, both against siege machines and against defenders on the walls, and their use is depicted in the Poliorcetica of Hero of Byzantium: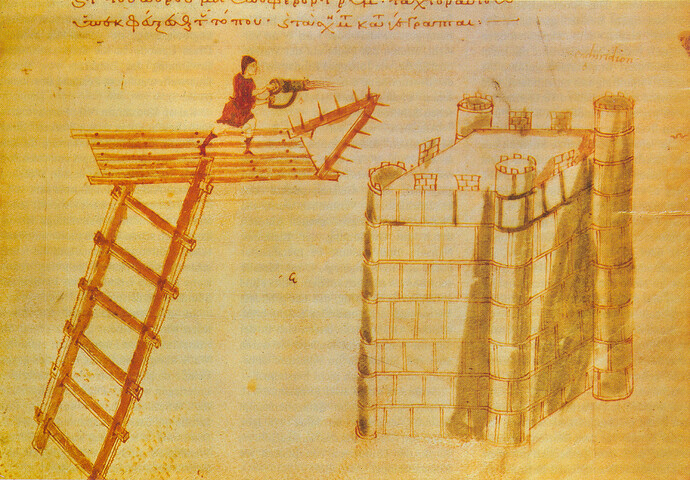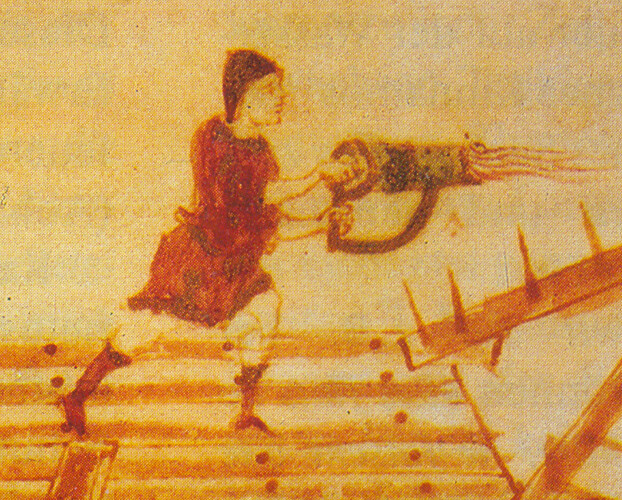 The illustration of Hero's Poliorcetica shows the Cheirosiphon throwing the ignited substance.
The immediate question is, how is this going to be implemented in game?
These are the units that have attack bonus against siege weapons. Few of them have attack bonuses both against siege weapons and walls/gates, castles, buildings, and one of the latter is Petard.
Cheirosiphon (Petard upgrade). It Will be available after researching the already existing Castle age Unique tech Greek fire, additionally to its current effects.
Its exact design is up to conversation. Petards are slow moving (0.8 - also Teutonic Knight movement speed), and if it will not be for one-time use, then it can have a range of 2-3, competing with the slower siege units (0.6) of the opponent and their buildings (with attack bonuses), damaging over-time instead of immediately, like a Fire ship on land. With a proper design, can be a magnificent defensive tool in the hands of the Defensive Civilization, iconic for the game, utilizing more convincingly on land the Castle age UT.
PS:
I don't forget the other popular proposal, the heavy infantry unit Varangian, but the idea of Cheirosiphon recently comes up hot

like its spout substance.
EDIT:
The fact that it upgrades Petard but it is not of one-time use, is problematic tho.
In the comments below another idea has been proposed; a short range, fast firing, Mangonel-like siege unit (with the appearance of a footman carrying a flamethrower), with attack bonuses against siege units & buildings (wooden things, so "stone defense" armor class should be excluded), unlocked in Castle age, after Greek fire UT research, trained at Castle.