Argument about mechanics:
I have thought a lot about this matter, because the fur market always seemed like a good idea, but very poorly implemented. I think most of us agree that the mine that magically disappears over time looks kind of ridiculous. But to be frank, it is difficult to come up with an idea that would make mines have a purpose for civilizations that did not practice mining or metallurgy.
That is why it must be seen from a new perspective that somehow indirectly links these civilizations with the mines, and that is why I have thought of a new proposal that could finally make sense of the mines.
As we all know, living beings require minerals to live, but some animals require a much higher proportion of these than other living beings, among these animals are herbivorous mammals. These animals usually visit specific places where they can find these essential minerals, so these places will be very frequented by wildlife. Even many living things require tiny amounts of metals for their body to function." Vanadium, molybdenum, cobalt, copper, chromium, iron, manganese, nickel, and zinc are deemed essential because without them biological function is impaired". Evolution of metal ions in biological systems - Wikipedia
Although in the game they are mines, within my argument I will propose that they will be places where animals can find essential salts to supplement their nutrition called 'salt licks'.

Implementation way:
Well, I will propose some daring changes, but this in order to get as close to reality as possible.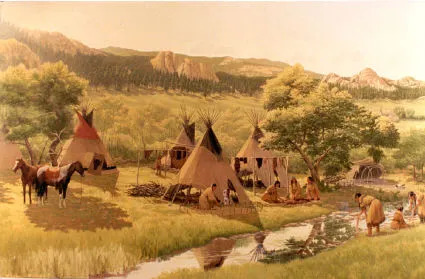 Taking into account that many animals gathered in the places where they find salts, or even crossed migratory routes to these places, it shows that salt is of vital importance for wildlife. If we assume that Native Americans identified these migration patterns, they would follow these herds to these gathering points and establish their camps near the herds. That is why I will propose a new type of building called hunting camps that is built near a mine and has the following functions:
When you build a hunting camp near a mine, it will turn into a salt mine with some kind of animation that simulates some bison digging for minerals.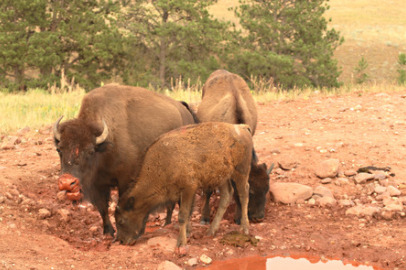 A small herd of bison will appear periodically performing the 'Buffalo Trail' upgrade.

The building will generate lots of bison in a larger quantity by performing the improvement 'Protected hunting territories' simulating migrations of animals, and that there are no hunters other than their own hunters, so the bison populations are prosperous.
The rate at which animals migrate to mines can be improved with the 'Controlled Burning' upgrade. This means an increase in grasslands and a decrease in forests, which means that there are more bison. Native American use of fire in ecosystems - Wikipedia
If there are animals near the mine and the hunting camp, they will approach the mine and simulate that they are consuming salt from the mines, so it will be easier to hunt them.
Because the Native Americans only hunted what they needed for their needs, the camps could also be built near the herds and the herds near these buildings could reproduce slowly, but it is forbidden to hunt the last 3 specimens. (Only for Lakota and Haudenosaunee)
The mines near the hunting camps will not deplete the mines, and you will start with a herd that is equal to the amount of coins that the mine has.
The herds near the hunting camps will not stray from the area.
The Lakota will have more late game bonuses, but the Haudenosaunee will focus more on farming.
The Lakota will replace cows and sheep with deer and bison respectively, which can be spawned in these new buildings, and will have an economy sitting on hunting throughout the game. (Similar to the Mongols of AOE-4)
I do not know how the bisons could give coins or food, so I propose the following:
It could be the two resources at the same time, but at a lower rate of income, or it could simply be an alternative option in the hunting camps (Coins or food), but this would be as if the entire animal was sold and not just the skin.
Note: My general idea is just to give a purpose to the mines, but I don't know how the fur trade could work. Also eliminate livestock and replace it completely with game animals (bison and deer).
---
Sources:
https://bullittcountyhistory.org/bchistory/salt.html
https://www.ndstudies.gov/gr8/content/unit-ii-time-transformation-1201-1860/lesson-2-making-living/topic-3-bison-hunting/section-2-lakota-bison-hunt
---
A Possible New Letter to the Lakota: 'The White Buffalo'
You will receive a white buffalo that will give you 2000 experience and he will be able to work in the square with the rhythm of 5 workers and will count as 5 workers. In case it dies you can create it in the square.