I will be posting a couple of topics for Russia it will go from decks to units and everything so that the civ has better chances at where they lack them which are abysmal.
Everything I will be suggesting will be with photos, videos or previous post that have the proof already whenever possible as it is better than just writing words out of blue or making assumptions.
When commenting please add useful comments or good criticism.
Russia is missing Strelets Hotkey from the Fort

Russian Logistician

This is really The worst logistician for a civ that has to rush. It delays your rush and 400w is just much superior than the benefit of a BH giving 15 POP. Could it be reworked into something different? I would even say maybe through this logistician give Veteran +2 range and Guard +2 Range for strelets ? That would make the Russian choose between the 400w or having more range
The change doesn't have to be the range to strelets as this is just a suggestion but just something different than giving 5pop to BHs or something extra that would help for rushing like faster aging through this one?
Cards
Russia has too many cards that are useless or not even used anymore
Ok I would like to start by saying that Russia 1st design was to be the only civ to rebuild forts now that is just common for all civs and theirs hasn't been reworked and instead just given a buff to a card that is barely used.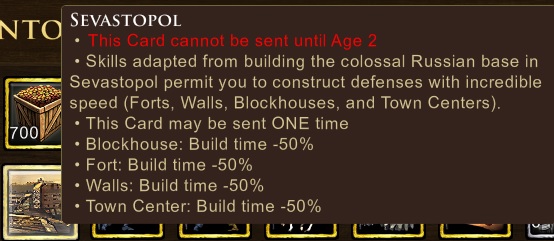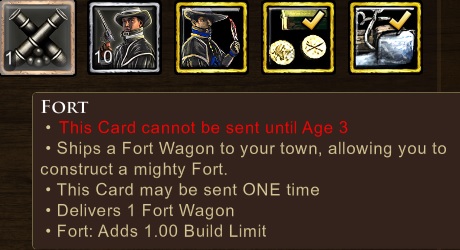 In the 1st 2 photos I believe these could have a rework or be merged Sevastopol currently feels not as useful and as Russia you rarely have to send that fort. I've sent it and used it but to not much usage. The card Sevastopol primary usage is for the speed of building forts the other things I consider are bonuses and in the case of a merge I believe it should only speed forts Hence suggesting Age 3 Fort card + sevastopol merge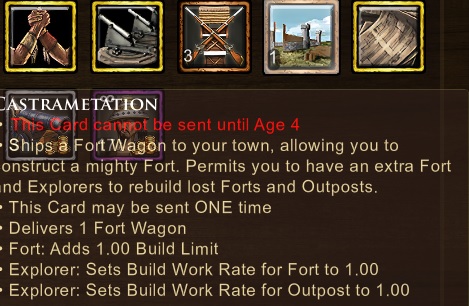 Now when it comes to Castrametation & National Redoubt these cards had their benefit moved from one card to the other and now you have 2 cards with practically no usage as your deck isn't as big to have them. And all in all the Musk stat increase isn't really used. It still allows to build forts but not increase its space. Maybe merging both cards in where as for Russia only,. The musks are the ones to build forts rather than the Hero? And by simply moving the Fort limit increase +1 to the Musk card that allows them to build it rather than the hero? Maybe just making 1 card out of the 2?
I suggest to even merge Castrametation + National redoubt + Sevastopol into 1 card
Something where the card allows musk to build forts. But also a little bit faster and giving them stats probably only HP so they can resist while building. So it would be Fortress Age fort would give 1 limit and the New merged card would give the other for the total of those 3 forts which only musk could build
This is because Russia can't really spam Forts before Industrial And after Industrial most civs have tools to deal vs Euro forts

Dueling school was mainly used for teams now it is not even used for that and the card is rarely needed anymore. I suggest a merging between the both If the flat 65% would seem to be too strong Then I suggest a different approach to it. Something where the card applies 40% and gives an extra 25% over a given time say after 10 or 20 minutes of the card being sent it gradually increased the 25% extra given by dueling school as better usage? All in all Russia is also a scaling civ
Will be adding more as I find them or others help in the process
Strelet Range gradually increased to 20 per aging or a combination of aging + cards or just giving them skirms
In short the suggestions have been as follow
Allowing each upgrade to give them range
Veteran +2
Guard +2
Imperial +2
The veteran and guard upgrade could be applied through age up logistician as state above
Or by with the cards
Boyars +2
Strelet Combat +2
Imperial +2
If these are deemed too much or makes Russia too strong I think they become much more stronger if skirms are allowed because at least the strelet stat per say won't be changed and it will still be as paper as it is
Please understand that strelet with 14 range does not allow them to fight properly against a good usage of Longer range units. Strelets are OK But they are not effective And a range buff of 16 or 18 by Fortress does not break them nor make them any more powerful vs skirms. but instead makes them work better vs what they kill
I'm definitely voting more for russia to have skirms, However I do believe they will become very strong with the access to skirmishers probably not and it is just the right thing they need as they cost Food & coin.
There could also be the option where Strelet still is a scaling range unit and russia gets access to skirmisher and they can switch between the 2 in super late game stages?
This here is just unacceptable Caroelans are a Musketeer unit not a skirmisher one other wise I wouldn't be saying much about it.
What is common between these 2 videos?
I'm using strelets to fight musketeers that are 1 age ahead of me with 3 cards.
In the 1st video the Caroleans are triple carded as well as in the 2nd video the british musks are triple carded and 1 age Ahead.
In Both videos I have a defense set up Which means that I don't have to always hit and run.
1st video I got 2 TC 3 BH 1 Fort if he was the one who would have to chase me down I could bait him into that defense without having to worry about hit and running forever.
In the 2nd video to try and replicate that I placed 4 BH
I've written posts about Russia and as a last try of properly doing one and showing clips or videos whenever possible as to why or how it could be improved. Here a list of those posts where I have created or commentated in case of going back