Well I'll be damned, as a Russia main player I got the chills by looking at the list Aussie Drongo made yesterday.
He has his youtube video here: The Age Of Empires 3 Improvement Checklist [AOE3] - YouTube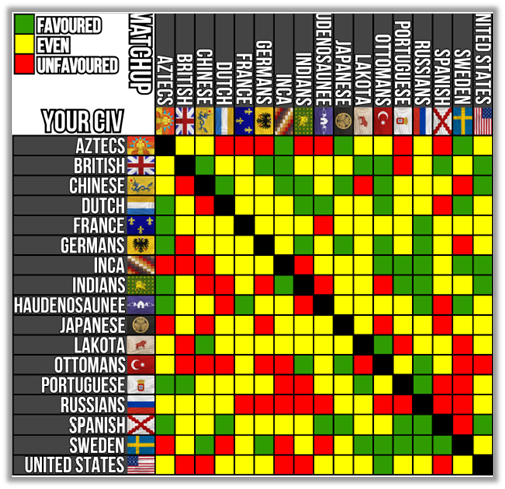 Calculating the list that he made i got the averages of each match with every civ, it shows British and Spain as the best favoured (38 pts), while it showed Russia as the absolute worst (28 pts).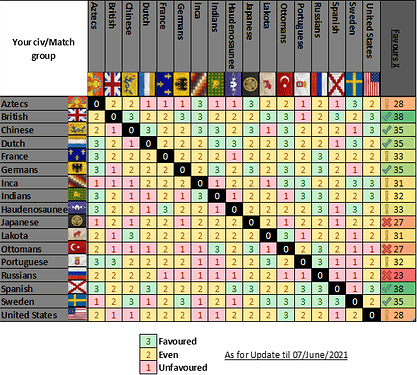 It had more unfavorable matches than it had even matches, it doesn't have any favored matches either (It's the only civ like that).

---
So I'd like to dissect the list on Russia, why does he see it as the worst ever? (He didn't explain his choices on the video).
Russia vs unfavorable civs
1)France
With all units having low HP, not even direct counters can survive as much against the cuirassier, so maybe that and the superior economy of the french is why he decided to make this as an unfavorable match.
2)Germans
Not sure about the economy, and the military units are kind of even, the only ones causing trouble are the war wagon and Skirmishers.
3)Inca
A rush civ vs a turtle civ, it was bound to go wrong.
4)Indians
Area damage mahouts and the superior gurkhas, hard to counter most of times.
5)Haudenosaunee
I rarely play against this civ, even less using Russia, so not very sure of how it has the edge…
6)Ottomans
The darn Jannisary rush kills me with any civ, so not sure what else to say, the abus guns wreck the strelets before they get too close.
7)Portuguese
The superior economy, stronger defenses, oprichnick slayer dragoons… shall I go on?
8)Spanish
Ufff, lancers could probably one-shot strelets, and rodeleros wont let cavalry do much at all.
9)Sweden
In age II they will certainly have a hassle, caroleans negate cavalry pushes, they can negate strelet or rusket masses by either setting caroleans to melee or shooting them with leather cannons, they also have hussars if you try to run hahah.
Other than that Russian oprichnicks should be able to raid well enough if caroleans aren't fast enough to catch up to them, and it's not like Sweden has a better economy than Russia
---
What do you guys think? It might need a buff after all