Leonardo's Tank
The tank designed by Leonardo da Vinci is pure fantasy and does not belong in the Italian unit roster. It could be a fun unit for a campaign, challenge, or cheat code, but it shouldn't be something available in regular gameplay.
There is a precedent for a semi-hypothetical unit in the Sebastopal Mortar but in that case, it was actually built, just not used in battle. However, there are many more issues with Leonardo's Tank. It was never actually built and the design had several flaws that would have rendered it inoperable. It also predates the game's timeline with a designed date of 1487.
Cortez's Trebuchet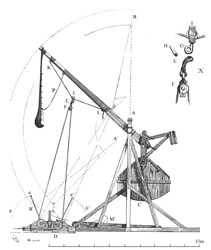 When it comes to archaic meme units, Cortez's Trebuchet is by far the best option. During the siege of Tenochtitlan the conquistadors were running low on gunpowder and decided to build a catapult as a way to conserve gunpowder. Gameplay wise, it could be a one time shipment for an age 2 siege unit. It could function like a Culverin since the only thing it was effective at destroying was itself. A Culverin equivalent wouldn't really be overpowered in age 2 and it could give Spain the option to commit more to age 2 aggression and still have a counter to Falconets from an opponent's FF. It could also count as an archaic unit for the Reconquista card.
Ribauldequin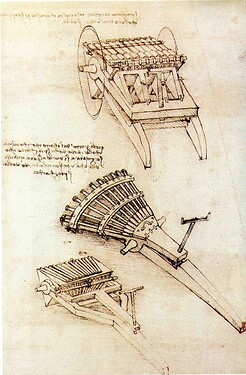 Ribauldequins would be a much better option for a Renaissance siege unit based on da Vinci drawings. It could also kill two birds with one stone, and fix Portuguese inaccuracy by transferring their Organ Gun unique unit to Italy. There isn't really evidence of them being used in Portugal, but they were used by Italy, France, and England.
Swivel Gun
The Portuguese would be compensated for the loss of Organ Guns by giving them a Swivel Gun as a new unique unit. Many Asian countries adopted this type of artillery after it was introduced to them by the Portuguese. These would be functionally similar to Organ Guns by being less powerful than a Falconet, but more mobile and quicker to fire.
Italian Bronze Cannon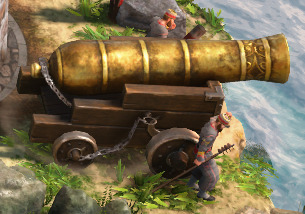 With these beefy cannons, Italians shouldn't have to worry so much about the drawbacks of Ribauldequins/Organ Guns.