Disclaimer: this is not suggesting changes in the role of existing units.
Premises:
Since vanilla artillery units have not followed the "guard/imperial something" naming convention for their upgrades, but use entirely new names to reflect their technical improvements. However, some of them still do not make much sense to me.
Also, only the crew model changes with the upgrade (aka gained a hat), and the model of the artillery piece does not change. Newer units like leather cannon/infantry gun gain a more modern look (as leather cannon is a very "archaic" thing which did not last into 1700s).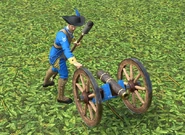 Similar updates to other artillery units would make them look more interesting.
Now let's talk about the specifics:
Falconet
I think the falconet model actually fits better to its upgraded name "field gun". Real falconets have much smaller caliber, and are more of a 16~17th century thing: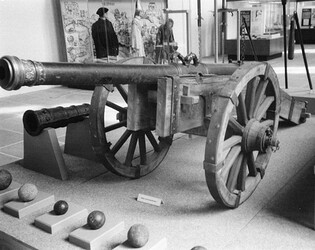 (source: wikipedia)
So the falconet model could have a smaller caliber and a more 1600s-looking carriage. This makes much sense: as the upgrade into "field guns" grants it larger caliber and improved gun carriages, making it naturally look more powerful.
Culverin
This is the unit that I have the most problems with. I never liked its forced role of "counter artillery" because IRL it was simply another standard field gun. But since the gameplay is very well established I would not suggest changing it.
Also, the model is very archaic-looking especially in the industrial age. The non-adjustable barrels, and the huge wooden sight (?) attached to the carriage, etc. look more of a late medieval thing. I think at least the upgrade should give a more modern model and name than "culverin royale".
But I am not sure which one would fit the role. It also needs to remain visually distinguishable from the falconet/field gun, but artillery pieces became much more standardized since 1700s. Any suggestions?
Howitzer (Mortar)
Howitzers are not simply "better mortars". They are more flexible and can function as field guns, as opposed to the huge, heavy early mortars. They are mounted on carriages and some just look like a cannon with shorter barrel (e.g. the Napoleon gun).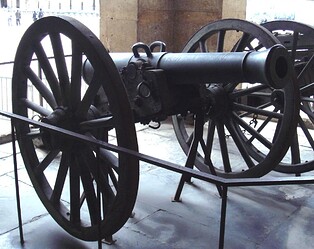 The upgrades of the mortar can simply be "heavy/imperial mortar" while the howitzer could turn into a new unit, or a unique RG upgrade of the falconet.
ORGAN GUN!
There are already a lot of posts on this. It is too archaic and does not fit the Portuguese at all.
My thought is it could turn into swivel gun with a similar role. The Portuguese used them and even propagated them to Asia. Swivel guns are barrel-loading and could fire canister shots, justifying their fast firing rate. They are also lighter than regular cannons justifying their faster limbering/unlimbering.
The upgrade can simply be a light howitizer firing explosive or canister shots (?).