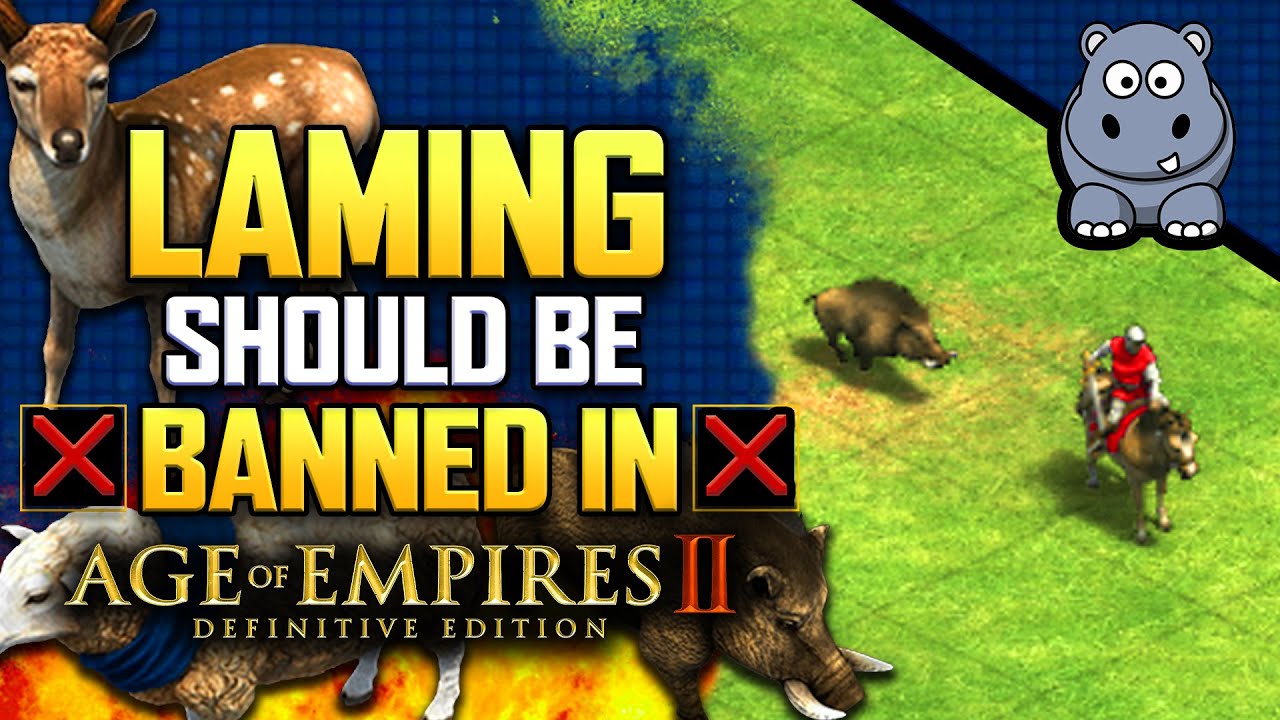 Give it a watch. He'll headline.
Now, point by point, I'll be defending the arguments he's given that are valid, and I'll be dismantling the parts that are strawmen. From the top:
"It's part of the game" as an argument:
Yes, it is. We agree on the fact it exists. I agree with you. However, this is not an argument made by those who are favorable to laming. It's a fact. You're arguing to remove it, not to question if it's "part of the game" and that's different. We aren't arguing for two even positions. We're arguing from the observable fact that something does exist, and you believe it shouldn't.
It makes absolutely no sense to call "it's part of the game" an argument. It's illogical. That's like saying "Food is part of dinner" an argument. It's not. Not a great start. Next.
"Makes Dark age more exciting" as an argument:
For a spectator, absolutely true. For a player, absolutely true. A player down a boar has to adapt, think on their feet, and a player with a boar up has an edge, they've got a rush, the dynamic shifts. That doesn't even count the serious possibility of the lame being contested by the enemy scout, or the end result of having an extra boar but being unable to take a scout fight in Dark age. On several maps it was determined by the best of the best that laming wasn't the right play even if available since scout HP can be so important.
The player who hasn't lamed their opponent does have a distinct, functional advantage of scout HP (irrelevant of the likely proper map scouting edge) and being able to apply that is partially dependent on map and partially dependent on strategy. I'm not going to call it parity, but this is exciting. This is how the game gets interesting, a series of decisions leading to different, interchanged strengths in a position where two players are going for different things. The Laming player will usually have the advantage but even that advantage comes at a cost.
"It's fair, both players can do it" as an argument:
No, no they cannot. That's true of every strategy because maps are randomly generated. The random nature of the game forces adaptation. That's why for a long time, players would sometimes go Spanish on Arabia and play for the Restart if they got an open map. They are playing into the strength of Conqs and hoping that the layout of their map facilitates such a plan. Sometimes it doesn't work out.
This is true of any strategy. Plenty of players over the span of the game's existence has died to a very badly placed gold that they couldn't easily secure, and while that sucks, map generation randomness is a feature of the game, not a problem with it. Boar being forward or back, sheep being far or close on the corners, and resources being generally in positions that aren't favorable is part and parcel of AOE2.
Without those, there isn't such a variant of tactics based off what the map gives you. Those tactics based off the little details that make people appreciate (or fear) a well-placed hill is AOE 2. That random factor is what made the game what it is today. Is Boar randomness being part of that too much? I don't believe so. There's about a thousand things that can be wrong with a base (a resource on the exact edge of the map, forward resources on hills, deer behind woodlines) and if you've got one problem, chances are your opponent has something you can capitalize on as well.
"It's not luck, it's skill" as an argument:
It is skill. It is 100% the skill to be in that position to have the chance to lame an opponent. The game is heavily randomized and you survive partially off preparation and partially off tactical brilliance and adaptation. The preparation and the adaptability are the two ways you survive, and those are features of skill. I can play against Viper or Hera and be in the position to steal a boar but Viper or Hera will absolutely still beat me. He's better than I am. He's been in that situation more than I have. He knows how to play around that so I don't get the chance, and further, he knows what to do should I succeed.
The players who earn the high ranking and make the way to the top don't get there via gifted map scripts and preset enemies. They get through the matches in spite of luck as a factor. The Variance of any given map, any given game, is a crucial part of separating the best from the good. Those who reach the top consistently have found a way to make the most out of whatever they were dealt, be it good or bad, and I have yet to see a set where Luck was entirely why someone was victorious.
The good fortune of players at the top or the bad fortune of players who haven't made it there is a failed mindset. It's allowing yourself to blame an aspect of the game rather than blaming yourself for not doing more to compensate for such aspects. Certainly there will be games where a lame will make a huge difference. There will also be games where it will be unable to provide victory. There will also be plenty of games where golds forward make a big deal. There will also be players who win in spite of it. That's the beauty of AOE 2.
"Can compensate for tough matchups/maps" as an argument
It can, can't it? Yes, it can also make a bad matchup worse. So can having forward resources, or a bad hill. Having it as an option to take an advantage in a bad matchup seems like a net good, even in the case where it doesn't work out. I don't really see the argument here, sorry. So Britons can make the Turk's life worse by stealing a boar? Depends on the map. Maybe the Turks have back boars and such an opportunity isn't presented to the Britons but it is presented to the Turks? The game is complicated, and to dissolve it back to "but their opponent can do it too" seems contradictory if anything.
"Can force a restart" as an argument
More to your counterpoints:
restarts are made to reduce variance
I don't necessarily agree. Map scripts were worse back in the day, and you'd find games where on Arabia, one player would have ~1500 total wood on their main woodline because of ponds. Or they'd have a bugged resource, or a really poor start, or yes, a Lame before 4mins. The restarts primarily existed to prevent players from having a "map loss" and it does that role properly. That being said, there's been a plethora of times where someone didn't like the map, called a RE, and saved their opponent from an equally bad, if not worse, map because maps be like that sometimes.
Laming is increasing variance
So here the disagreement becomes obvious. Laming is not increasing the variance. It's taking full advantage of the variance that already existed within the map script. There is no increase of variance besides the player picking which direction to scout and being fortunate enough to find the opponent quickly enough.
"It's an investment" as an argument:
It's factually true. Now, is the investment too low? That's a question of player preference, execution, map script, civ matchup, and 1,000 other things. Most of the time, it's worth it, I think we'll agree on that. That being said, it is an investment to not scout your own base as early, to not push in early deer, to give up the advantage in the dark age (and usually feudal age) scout war.
To extend even an inch into the hypothetical, how do you envision not being able to lame with a scout? Are you forbidding the map designers from making a map where there are neutral boar that are too far to be lured with a villager but luring them with a scout is a potential option for more resources in exchange for some micro and some scout HP? Two of the easiest ways you could make it so that scouts couldn't lame (either can't attack boars or boars can't be led by scouts too far) would make this potential for a map nonexistent because it's a mechanic you don't like. For myself, that is a step too far to take.
If this is just "a rule" that you'd like to have imposed in tournaments (someone in the thread pointed this out as an option) then I'm actually probably more firmly against it. I don't think having tournaments play with special rules is a good idea for any game. That's just a personal opinion for sure, but it's a strong one.
"Creates Unique Scenarios" as an argument:
Read above. I think I've covered that.
~~~
All in all. I understand what Nili is getting at. But most of his arguments fail to provide to me why this is different than complaining about Variance as a whole. Variance, as most of you would be able to discern from my argumentation, is fundamental to AOE 2. I think there's a wealth of games that do maps without variance that do absolutely fine, but they aren't AOE 2. AOE 2's random map games have been a staple of the genre for decades, and any argumentation against variance or reducing variance as a whole is going to register a hard decline for me.
There's a wealth of things we can do to make laming less prevalent in the meta without abolishing it entirely or fixing map locations. But I am entirely unconvinced that we need any changes. Most players agree that you can address laming the boar with simply pushing more deer early and have a less efficient eco but a more effective scout. When walls are closing and units are out, the value of such an advantage is hard to quantify and varies wildly, but it's not irrelevant to say the least.
I guess I'll summarize the real arguments against the removal of Lames for those of us with less time to read:
Reasons why Stealing Boars Shouldn't be Banned:
It makes Dark age more complicated, and often, more exciting
It's yet another aspect of the Variance that permeates AOE 2 and makes it unique
It can affect a change in strategy or direction of the game
It can be used as an underdog mechanic in desperation
The value of a full HP scout is still unestimatable, thus the meta is not fully developed.
The potential of unique maps will be trimmed.
It is, based off the assertions of the best players in the game, not always the proper play.