Units
Otontin Slinger - The Otontin were an elite warrior society within Aztec culture that was named after the Otomi people. Its use as a generic name for a slinger doesn't fit at all. The Otontin were a warrior society akin to Jaguar and Eagle societies, and were actually considered of higher status than the latter two. Also, the unit's design, at higher upgrates, even shows them with a butterfly back banner, a standard warrior rank within Aztec society, not the back banner of an Otontin. The Otontin wore a xopilli, a ''clawback" banner that looked like a tear drop with green feathers at the top.
This unit should be renamed to something else, perhaps even something as simple as "Papalotl Slinger" to match their back banner.
Coyote Runner - This is an entirely fictional unit, but their design is based on known suits that featured a coyote head helmet. Could probably be left as is. Their back banner is most similar to a banner wore by priests though.
Puma Spearman - Their back banner is the quaxolotl (dog head) banner of the Tlacateccatle (general) of the Aztec army, and not a generic banner that multiple soldiers wore. The Tlacateccatle was always a Shorn One (see below), and he was second in command to the Tlatoani (king), alongside the Tlacochcalcatl (see below)
Knights - All these units need to drop the word Knight from their name, this is a colonialism, and is not considered a correct term to use when referring to Aztec warrior societies.
Arrow Knight - This unit needs its everything changed, even their description, as they do not use an atlatl, they use a bow. Also, their suit, hat, and nose ring indicates that they are a low ranked warrior with only 2 captives (. They are by no means 'nobles' in their current design. They could feasibly be redesigned into actual Otomies, with the tear drop banner and distinct hair style.

Skull Knight - The unit's design is that of the Tlacochcalcatl (high general), one of the Tlatoani's seconds in command and often his successor. They need a redesign. My suggestion is to redesign them after the Shorn Ones, the most elite Aztec warrior society, bands of shock troopers known for their shaved heads, and which always fought in pairs.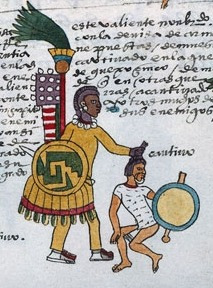 Buildings
Rename the War Hut to the War School. In the Aztec empire young men of the lower classes went to a school called the Tēlpochcalli (literally "youth school") in order to learn warfare, and seeing as the "War Hut" trains warriors of the lower classes, referring to it as a school would be more appropriate.
Rename the Nobles Hut to the Calmecac. The Calmcac was the upper class equivalent to the Tēlpochcalli, and trained noble youths in warfare, politics, and religion. This would be more fitting than say "Noble School", because Calmecac doesn't actually mean "school", it means "group of buildings", or "campus" if you will.