The recent updates to the two versions have shown us the determination of the production team to strengthen the differences in CIV, which is a very good sign. Of course, it would be even better if differences could be further implemented in the model.
As is well known, there are some long-standing model issues in AOE4, such as Middle Eastern knights using European Lance, East Asian crossbow soldiers using European capstan crossbows, and almost all CIV spearmen using European billhooks.
Whether it's an excessive emphasis on the ease of use of esports or a traditional setting derived from the AOE2 universal model, it's undoubtedly outdated and uninteresting. However, it's nice to see that the production team is shifting their design thinking and starting to refine the differences between various CIVs.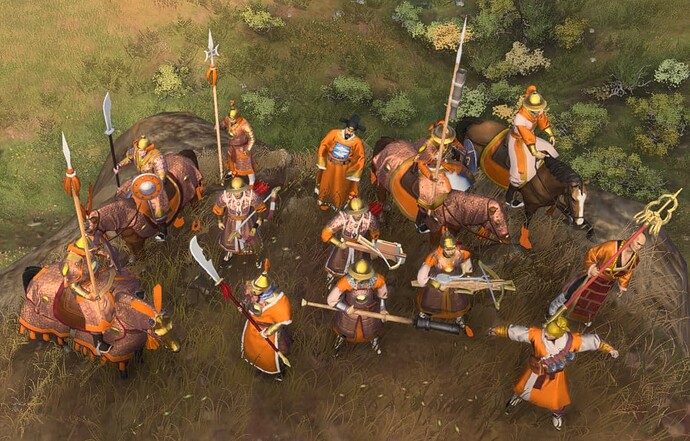 Some potentially useful ideas:
About the City Wall
Generally, CIVs can build stone and wood walls normally.
Mongolia and other nomad cannot build any walls.
RUS can build reinforced wooden walls and can only build stone walls.
Like RUS in history, Japan's city walls were not mainstream and relied more on mountains and castles for defense. Therefore, Japan could design a special weakened stone wall, which was positioned between the stone wall and the wooden wall, similar to the wall setting in previous works of the AOE series: a shooting hole protective wall where personnel cannot climb, but can shoot outward. This is reflected in the fact that friendly units shooting towards the other side of the wall near the friendly city wall have a gain effect, On the contrary, enemy units shooting through walls will be forced to reduce damage.(with a certain probability of no harm)
About Scouts and Cavalry
In ancient Japan, there was a great lack of excellent horses, so it could be set as a CIV with infantry as the main force. However, unlike HRE, after all, Europe had at least good breeds of horses available, and Japanese horses and cavalry were too weak even in horizontal historical comparison. Therefore, Japanese cavalry could be specialized in certain aspects, but their overall combat power was weaker than ordinary cavalry, while reconnaissance soldiers were suitable for designing as ninjas, As a reconnaissance unit that can be invisible and run at high speeds (not as fast as a horse, of course).