I read some comments here and on reddit and youtube about why the devs avoided the realistic approach and the game was created keeping teenagers and younger generation in mind . Maybe, thinking as they start with this game, they will keep playing it for years to come, (just like we did with AOE 2

) increasing lifespan of the game. Could it be true?
When asked about blood and gore, the devs response was-
''We want the game to be playable by as many people at as many age ranges as possible,so we intentionally avoid that to keep our rating towards the low end of Teen.''
I did a little experiment. I showed the gameplay to all my friends as old as me (30ish), and they found it ok, said the same things that they were expecting more. Then I showed it to my 12 yo neighbor, and he liked it and was curious to know more and then another 15 year old kid who thought it was AOE 2 with some 3D graphics mod but he loved it.
It made me think. The comic scaling, the lack of blood, homing arrows, weird civ names, unrealistic animations like castle shooting arrows with smoke like machine gun, siege weapons going poof when destroyed, they all makes sense if the players are younger. They don't care about the logic, realism or historical accuracy. They just want some effects on the screen, and fun and they will never compare it with other RTS either.
For me, learning that there is no blood/skeletons was incredibly sad moment. This is a medieval warfare game and If a person dies by a sword, there has to be some blood, like prev age titles. This is what seems natural to me. I would even love to see if garrisoned soldiers get caught on fire and start running to save life. This would add so much immersion.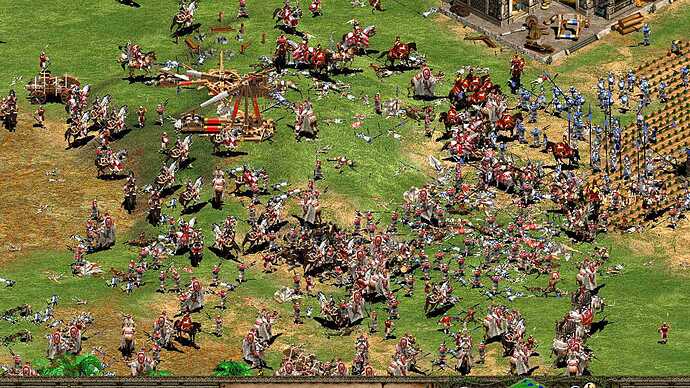 As 30yo gamers, having played hundreds of better games for last 20 years, we immediately notice what is missing, or what should have been there. I never thought of AOE as a kids game, but maybe, as the world is changing, they too are changing their ways. Maybe, there is nothing wrong with the game, its just we are getting too old to fall in love with it.