Delhi pick rate 4% hahaha joke of a game.
We can choose different levels of ELO players to choose
<1000
1000~1099
1100~1199
1200~1299
1299~1399
1400>
Civilization with the highest and lowest victory rate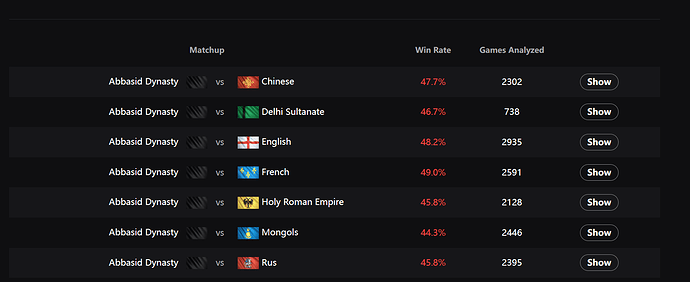 62% on mongols vs HRE looks brutal…
Abbasid loses against ALL civs, female heavy troop Mongols wins against ALL civs… 62.4% win vs HRE

AoE4
abbasid is against the cavalry civilization 49% FranceXDD
Yeah at least Abbasid anti-cav works




I'd like to openly ask, what is a realistic number for win rates/pick rates? To me, the Mongols look ever so slightly unbalanced based on this data.
The absolute extreme of perfection would be win rates of 50% across the board and pick rates of 12.5% across the board. +/-5% on win rate "feels" pretty damn balanced imo. Pick rate is less important of a stat, because it's based on many various subjective factors in addition to the objective "which civ is better". Additionally, since pick rate is a competition across 8 civs (as opposed to individual win rates which are essentially a binary stat), I'd expect the variation to be much larger. E.g. If Delhi had a pick rate of merely 4% and all other civs were equal, they would have a pick rate of 13.7% - just 1.2 pct pts above the "ideal".
I've had enough of this AoE4 farce. I just want my money back.
@SugaryGraph1416 Yes, I looked at the data on the site through every filter, and I stand by my statement.
Here is some detailed analysis on the data as of 12/30/2021 16:37 (UTC-8)
PLEASE keep in mind that these are delta values as a percentage of the "ideal" case (50% win rate and 12.5% pick rate).
Delta from "ideal" win rate of 50% - Red suggests underpower and Blue suggests overpower. These are percents of percents, so the numbers may look dubious. As an example to clarify: Rus at ELO >1400 had a win rate of 52.70% when I captured the data. This results in a value of 5.40% by: ((52.70%/50.00%) - 1) x 100%


Delta from "ideal" pick rate of 12.5% - Red suggests underpicked/underrepresented and Blue suggests overpicked/overrepresented. These, again, are percents of percents. As an example to clarify: Rus at ELO >1400 had a pick rate of 20.40% when I captured the data. This results in a value of 63.20% by: ((20.40%/12.50%) - 1) x 100%

About 90% of the games analyzed are by ELO < 1300 players. For the most part, it seems like the balance is "pretty good" (my opinion) for these ELO ratings. Above 1300, Mongols start winning maybe a bit too much and Abbasid losing a bit too much.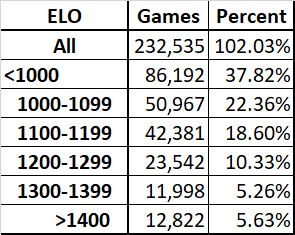 Overall, Abbasid and Delhi are quite underpicked.
@TheBajamba I really appreciate the way you laid out the data, making everything very clear to see. How did you end up with more than %100 on your second table, though?
To me, Delhi looks under-picked, but is punching above its weight in terms of win %. Imagine if the civ was not so buggy, maybe they might even be considered 'overtuned.'
Abbasid looks both under-picked and underperforming.
Ah yeah that over 100% results from the difference between the website's numbers for all ELOs (232,535) versus the sum of the individual ELO brackets (86,192 + 50,967 + 42,381 + 23,542 + 11,998 + 12,822 = 227,902). Probably because it's live data, and it maybe changed a little bit while I was clicking through the different options, that, or it's also including some folks who don't have an ELO rating yet.
It's okay to have "opinion", but font lie with:
the difference is 21%+ or 18%+ if u skip last one. Not 5%.
Lemme clarify, that +/-5% was in the context of percentage points. So it means a win rate spread of 45%-55% is what my opinion thinks is reasonable. This translates to -10%/+10% on the tables I shared (percent of percent).
Sorry for the confusion.
thx for tables
Did u take it from site, or it can be imported somewhere?
number of players:
1300+elo= 2797
total= 51792
percentage= 5%
num of games played by
1300+elo= 409755
total= 3060253
percentage= 13%
Also noobs below dont even bother to learn the game, and do not try to find "the best approaches".
Median number of games based on rate:
>1300elo=102games
<1300elo=33games
Anyway, game should be balanced for noobs, but now Hera/ Grubby will release guides and slowly but surely people will grasp the ideas from higher level players.
Surely, game should be balanced for noobs, and if noobs struggle against some cheese (like FL) devs should take it into consideration… not only balance for pros.
I copy/pasted directly from the site. I don't have an automatic way to source the data