So the Forrest Prowler got a nerf and the numbers they used were pretty funny looking so decided to check it out and I think the reason for the funny numbers is they are accounting for something that not a lot of people would ever even notice.
Other reasons include the warchief HP and also the conservative tactics change
So to start off what were the actual changes, cause I think there has been a change in how they have written patch notes that may actually be confusing for non-insane people who check the protoy files like me.
From the notes


so it looks like a 2.5 HP and a 1 attack nerf
However, these are not changes to the base stats, no no, its the change that you would see if you just open the game, but since the Forrest prowler is a base 2 unit that gets an age 3 shadow tech (and this will be important) the base changes are 25% lower then this
From the Protoy file



So the base changes are 110 → 108 and 16 ->15.2
Now for the why?
The reason for this I think after messing around with the numbers lies in the Vet tech for native civs, which the forrest prowler gets a shadow tech on.
If you ever notice the Vet level tech for native civs, they give 25% instead of the 20% that Euro civs get.

That also applies to the Forrest Prowler and its why their age 3 stats are as such
110x1.25 = 137.5
16x1.25 = 20
So what does this has to do with the nerf?
cause look at the numbers if the Forrest Prowler were to have a +20% vet tech instead of 25% with the old base stats
110x1.20 = 132
16x1.20 = 19.2
Looks familiar?
So the nerf is arguably a way to offset that 5% that they get from the vet tech before.
The second part of this involve the warchief HP aura
This is the old age 3 stats of the Forrest Prowler and lets compare it to a normal vet skirm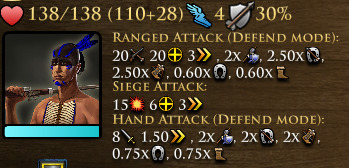 It was comparable, trading 2 atk for 6.5 HP and same kill time
137.5/18 = 7.6
144/20 = 7.2
But I think alot of people always seem to forget the warchief exists, which gives a 10% HP aura scaled to current HP, which gives them 137.5x1.1 = 151.25 (though for some reason it shows up as 152 HP, might be a bug here somewhere)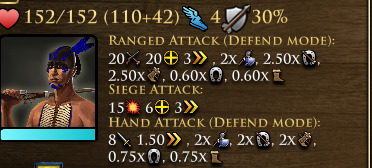 the extra HP does allow it to tank one more shot
So what about the new stats?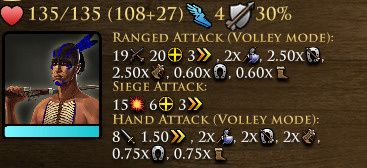 so apparently it changes nothing on the kill time
135 / 18 = 7.5
144 / 19 = 7.5
now if anything their kill time are more similar
with the warchief aura?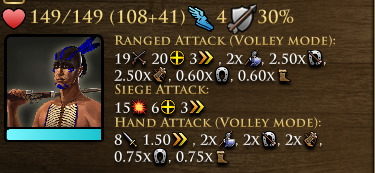 135*1.1 / 18 = 8.25
They will still tank the extra shot
So yeah why this change?
I think its to make the base stats of the Forrest Prowler stat growth more inline with base skirms while still allowing it great benefits when used with the warchief and also account for the addition +10% that conservative tactics now give
thank you for reading through my work procrastination