GAME INFORMATION
GAME BUILD

#:

101.101.59165.0 8211018
GAME PLATFORM: Steam
OPERATING SYSTEM: Windows 10 Pro
ISSUE EXPERIENCED
I am a random map scripter responsible for maintaining a few map-packs in the form of mods. Most of these map packs are used for competitions and it is critical that there is a single place participants can go to download the maps. A few days ago, I noticed that there were duplicates of mods I had created appearing in the "My Mods" tab. To mitigate confusion over which was the correct one, I backed up my files and unpublished ALL my mods, and uninstalled the game. I then reinstalled the game, and attempted to republish my mods one at a time. I can't even publish one. Whenever I go to publish a mod, I fill in all the correct information, but the game never actually publishes the mod, it just sits there spinning forever. I even let it run overnight, and it still would never publish. As far as I know, I no longer have the ability to publish a mod in-game. I can still publish mods through the website.
FREQUENCY OF ISSUE
100% of the time (ALWAYS)
REPRODUCTION STEPS
Be me.
Place the correct files in the local mod folder in the game directory.
Restart the game, verify that the appropriate folder now appears under "My Mods" tab.
Hit "Publish"
Fill in appropriate information.
Wait forever for nothing to happen.
EXPECTED RESULT
Mod would be published, no duplicate titles appear in "My Mods" tab. Published mod would contain the appropriate files that were transferred from the local mod folder.
IMAGE
Attached some screenshots of the process. First is just the infinite loading screen

Second is what it looks like when I close the game after 15 minutes with ctrl+alt+del and restart to look at "My Mods":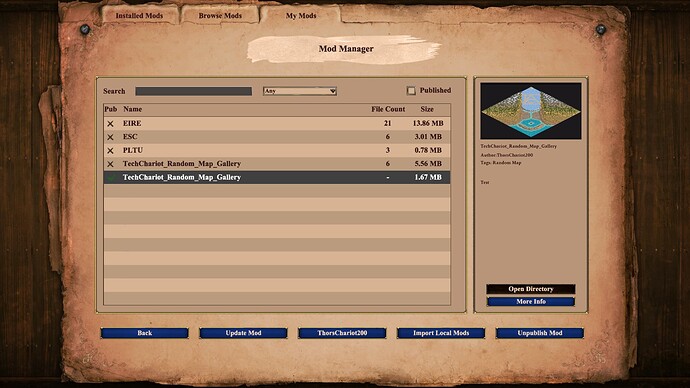 Finally, I know that this isn't working because when I check my subscribed folder, there is nothing in there: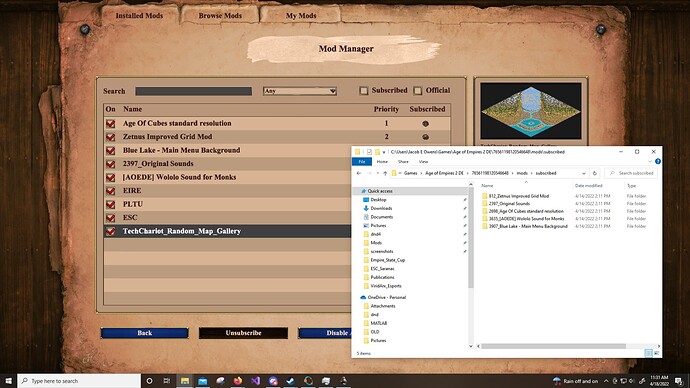 Thank you in advance for any support you can give to this issue!