Based on Weapons:

Khanda: It is a double-edge straight sword.

Bhuj: Commonly called an axe-knife, because the blade is fixed onto an axe-like haft.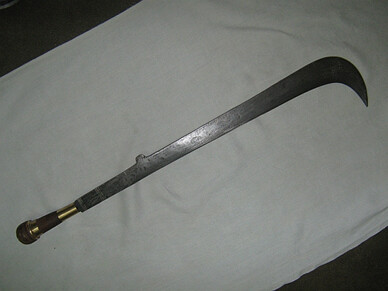 Aruval: It is a type of billhook machete.

Patta: It is commonly called a gauntlet-sword with a gauntlet integrated as a handguard.

Kukri: It is a type of machete with a distinct recurve in its blade.

Talwaar: It is a type of curved sword or sabre.

Urumi: It is a sword with a flexible, whip-like blade.

Parashu: It is battle-axe which can be wielded with one or both hands.

Katar: It is a type of push dagger characterized by its H-shaped horizontal hand grip.

Maduvu: It typically consists of two blackbuck horns pointing in opposite directions connected bytwo crossbars which also act as a handle.

Bagh Nakh: It is a "fist-load, claw-like" weapon designed to fit over the knuckles or be concealed under and against the palm. Tiger Claw.

Bichuwa: It has a narrow recurved blade and a simple looped handle which may be cut with chevrons.

Gadaa: It is a mallet or blunt mace, consists essentially of a spherical head mounted on a shaft, with a spike on the top.

Chakram: It is a throwing weapon also to protect the turban and the head from sword/melee attacks.

Gupti: It is a swordstick dagger that can be completely concealed in a wooden case and resembles a walking cane or short stick.

Dhaal: Round Metal Shield held by two handles fastened to ring bolts that pass through the shield and are riveted to bosses on the outside.

Barchhaa: Type of lance with a wooden handle. Another version of this weapon is the Ballam, a throwing spear.

Gandasa: It consists of a long stick of wood (roughly the height of its user) with a wide blade attached to one end. It resembles a very large axe, although it is used in a different manner.

Ramdao: Large, curved blade designed to decapitate in a single stroke. It is used in a hacking swing

Khond: The crescent shaped blade is made of steel and fixed to a rosewood shaft strengthened with iron sheathing and is surmounted by a flat wooden knob.

Zaghnal: An Axe like War Hammer, devastating in charged attacks.
Ayda Katti: Weapon of war peculiarly worn without a scabbard

Valla: Spear with a shield attached to it.
Burz/Shishpar: Flanged Mace

Valari: Thrown wooden or iron weapon. They come in both returning and non-returning varieties
Based on Martial Arts:

Of course I may still be missing many stuff. I did this compilation in about 1 hour. You can do the google search with the name of the weapons to know more.