This happens every time I try to move a huge army.
It's not permanent but it does take a long time to fix.
AoE II: DE is a fun game that doesn't have any bugs whatsoever in my case, AoE: DE on the other hand is a slightly broken experience and they focus on updating AoE II, it's not fair.
It's long enough to lose both units to a Centurion…
In my case I could only split them by using waypoints, selecting one and then the other (not by using the traditional "move to" way).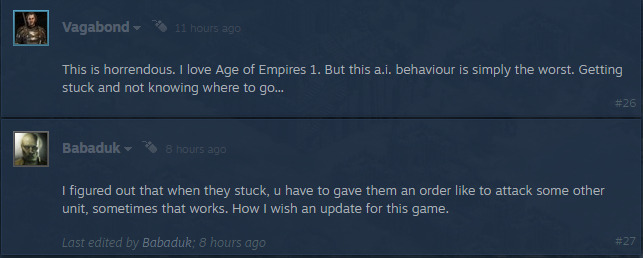 This gave me a glimpse of the reason this happens. Perhaps they not only literally stuck on each other collision box, but it is as if the contact between collision boxes were making them "code stuck" on a loop of conflicting orders. Like if the code were commanding them to "stop" and "move" ad infinitum.
I barely understand anything about how this works, so this idea must be a great mistake of my part.
Hey! I'm Vagabond.
Hello Vagabond! Welcome to our community.
Are devs never going to fix this…? Please!
Do you really want an answer to that? It might depress you.
Do you really think they're not fixing it?
I could say yes, but that would depress me.
I am urging for a refund. I am not committed to a game that is left behind.Without proper mechanics.
If units get stuck or not is really no option to play a game at a high level. My refund message:
"I've waited a few patches to wait for them to fix the game. Let it be clear that the game is unplayable. Units can't find their way and get stuck in eachother. This still has not been fixed, so i purchased a broken game. I understand that the hours i spend in the game are too much for a refund. But i ask you to reconsider, since they promised to fix the game, but they still haven't. On the forums the debate is going on whether this game has been abandoned or not. There is no reaction. So i suspect that it's the case, i truly bought a flawded game, one that will not be repaired in the future. Otherwise they would have done so already. "
When two units stuck, the only solution I've found it's to sacrifice one unit. Sadly happens all the time.
You can unstuck units by placing a building under them. The same that works for moving gaia units/animals.
Have units stuck
Order villager to build a house under them.
Once the villager goes to build house units will move.
(4. Cancel the house if you don't need it.)
If the game is that bad why don't you play with classic mode? At least some of the bugs should be absent in the original.
You need to ask why? And no, pathfinding was abhorrent in the original as well. But that game is excusable for its age. To say we need to play the original if the new one is bad, goes beyond the reason for buying a remaster. Why does a new edition exist? Because the game was good and needs to meet modern standards. Graphical it does. Gameplaywise not. That's where the discussion is about.