The Muscovites. Russian peoples on the furthest edge of 'Western' Civilization. With Hordes of steppes people on all sides, there is a reason this breed of Slavic is said to be hardy, no-nonsense and tough as nails. With influences in this civ from the likes of the Pechenegs and Oghuz, the tech tree is almost a blend of Russian and Pecheneg… and it kinda is. It's very much an "I will rise up and kill you at your own game" civ and it shows in its tech tree. You'll see.

Muscovites - An Infantry and Cavalry Archer Civ
Mining gold generates food
The ability to scrounge up food from the earth, grabbing roots/tubers from rocks (in this case shiny ones) was vital to surviving the climate.
Good horses and good sturdy footmen. Good powerspike and a useful edge. Russians were good at keeping pace and outpacing their enemies.
Cav Archers +1 melee armor, +2 in Imp. (3 total)
Believe it or not, there is plenty of evidence of Horse Archer usage even into the later 17th century. And said archers had armor on.
M@A, Long and 2h Sword available 1 age sooner. Longswords also -5 HP and -1 base attack and -1 attack vs Eagles until the correct age.
An uprising of infantry. As broken as these seem, these aren't cheap techs.
Team Bonus - Cavalry/Elephant Archers +3 vs buildings. UU/Team Bonus mounted archers only +1.
Why aren't you using cavalry archers yet?! If the Saracens have no use for this bonus, then the Moscow peoples will shoot down their own farms so you can't eat them and teach you how to do so. It is reduced for Cav archer UUs because scary War Wagon/Conq/Arambai/Kipchik/Mangudai/Camel Archer with building bonus so high is worrisome and the Ratha having this in melee… well the Bangalis might actually need help but not like this.
Missing Techs
Barracks: Eagle Scout, Halberdier
Archery Range: Arbalest, Elephant Archer
Stable: Paladin, Hussar, Battle Elephant, Elite Steppe Lancer
Siege Workshop: Siege Onager, Siege Ram, Armored Elephant
Dock: Heavy Demo Ship, Elite Cannon Galley
Blacksmith: Blast Furnace
Economy: Crop Rotation
University: Heated Shot, Bombard Tower, Arrow Slits
Monastery: Sanctity, Herbal Medicine
Castle: Sappers
So this tech tree seems standardish. No Elite Lancer stands out. But otherwise there's plenty of reason to make all the buildings. Their end game, well, you'll see.
UU: Cossack - Cavalry whose mace spikes do extra 'rounds' of damage the way a Chu-ko-nu would but in melee (these spikes use the same damage formula too). It does 3 (4) of these spikes. Has bonus damage vs UUs to represent their desire to fight off invading foreigners.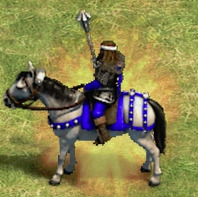 The image is filler, but the concept of a maceman on a horse is here. It's just the best image I could find short notice.
| Cossack | Stats | Elite |
| --- | --- | --- |
| Health | 105 | 130 |
| Attack (melee) | 8 (+4 vs UUs, +1 vs Cav Archers) | 9 (+6 vs UUs, +1 vs Cav Archers) |
| Range | melee | |
| Accuracy | 100 | |
| RoF | 2 | 2 |
| LoS | 6 | 6 |
| Movespeed | 1.45 | 1.45 |
| Armor(Cavalry, UU) | 2/1 | 2/2 |
| Cost | 65f/60g | |
| Train Time | 21 | 18 |
| To Elite | 950f/700g | 50sec |
Castle Age Unique Tech: Pecheneg Revolt – Melee units do +4 damage vs their own unit line. Ranged +2. Only effects living units.
Cost: 300s/400f 45sec
To explain, an Archer or Crossbow will do bonus vs Archer/Crossbow/Arbalest. It won't have bonus vs Plumes, Genoese, or Longbows. Same way a Knight will have bonus vs Knight, Cavalier and Paladin but not vs Cataphract. The Pecheneg Revolt was against the Byzantines, so the idea of being a 'counter unit' civ plays out here with the idea of doing bonus damage vs the counter unit civ by matching their versatility with a little of their own.
Imperial Age Unique Tech Smuta - Infantry do 2 attacks per swing (essentially having a (1) on their damage stat) but do -1 to their main and bonus damages on both swings.
Cost: 800f/900g 70sec
In the Time of Troubles (known as Smuta) towards the start of the Renaissance 1600s, the Muscovites fell into disarray and militias started uprising. Militias… militias. They're so angry they want to kill you twice, but this time was a struggle so power was a struggle even if it made struggle twice as hard.
Strategy: Let's not mince words. Your early game revolves around the barracks. Early M@A access sounds busted, but you'll never be able to afford it until Feudal anyway, so its best use is to research it on your way up to match the Bulgarian power spike. Granted after that, you run away from the Bulgars if you can afford Long Swords. a 55 HP infantry unit is fantastic to have access to. Do not underestimate the power of this as probably 30 have enough power to break a TC. I almost think it's too much the Long Sword is just that big of a stat jump over the M@A with 10 extra HP, 1 melee armor and +2 damage. It's still too slow to catch archers, mind you, but be wary of these guys.
As you fill your coffers and granaries from gold mines, this is the unit you revolve around. But in Castle Age, once you get Pecheneg, the doors open up. First the free 10% speed buff techs go a long way towards Knights, but Cav Archers are a legit option here! To beat this civ, use a unit that they are NOT focusing on.
If the enemy uses UUs, use Cossacks to fill you with xenophobia of the 40+ civs that aren't you! Cossacks are also amazing Ram breakers since they have the same 0 melee damage 'volley' effect from their spiked mace. Unlike the ranged versions, these volleys cannot miss because they're point blank!
In Imp Age, lots of options fall off. Xbows are not great. Cav Archers with 7/6 armor are nothing to laugh at. But if you want to start winning, Champions will do very well. 13+1 damage seems sad, but they swing twice. For Pikemen, it looks even worse, but even with only +21 vs cavalry instead of 22, keep in mind, that's technically 21 damage done twice per swing! So your main composition is champions, Pikes and Cav Archers, but Cavaliers, Light Cav and Camels have plenty of viability!
To beat the Muscovites, try never to use the same unit line as them.
Is it balanced? Not sure. There's definitely some unique attributes at play. Number tweaks are where I think I need the most aid to make this work.
TLDR: If they go knights, you go knights. If they go XBows, so do you. If you can't keep up with their tech change… uhoh.