Wait, I'm back with… Vandals?! So, why the Vandals? They're not Medieval! True, they're Dark Age. And that's okay because a good deal of civs have Dark Age aspects: Persians are based mostly on Sassanids, Goths are mostly Dark Age, Huns, the Ethiopian Axumites fell in the year 940. A large Mayan Empire was wiped out around 900. Celts, Britons, Teutons and Franks are all Dark Age tribal names!
From here, any argument starting as Too early is easily nullified. They also don't clutter Europe on the world map, they're in Tunisia!
With that, let's talk the Vandals: the underdog Barbarians. Not as violent to start, the Vandali, along with the Alans, were pushed far! From Scandinavia all the way to southern Spain by invading Huns, Romans and other German tribes. So bad, was this bullying, that the Vandals were pushed across the water and into Northern Africa, whereupon they gained knowledge on heavy cavalry (not that they didn't have heavy cavalry to begin with) and the art of taking over cities. Besieging much of Roman Africa, they made Roman Carthage their capitol and, using abandoned Carthaginian ships, made the greatest navy of the Dark Age from which they ruled the Mediterranean and even got to ransack Rome, whereas Attila could not. They learned of the camel from the desert peoples and Berber camel and javelin tactics were tough to circumvent for these guys until they learned it themselves.
Eventually, the Byzantine empire destroyed the Vandals and they became but a memory, but their impact is unforgettable every time you spray-paint a wall.
The campaign of Gaeseric is almost too easy and conflicts with Franks, Goth, Teutons and Burgundian Germanic tribes were common as well as Hunnic aggression. Berber neighbors and of course Italians, Sicilians and Byzantines, possibly interactions with Ethiopia? Anyway on with the show!

Vandals (406 – 534) - A Cavalry and Naval Civ
Starts with dead boar under completed TCs that decay more slowly.
The hunt is on for the most nomadic of German tribes.
Stable units do +1 damage vs. cavalry per age starting in Feudal for +3 total. This does NOT add bonus damage vs camels but does increase camel damage vs. cavalry type armor. Camels specifically do +3 vs other camels.
The history here was that Vandal cavalry was pretty good. Even Justinian the Great knew that it was folly to send his own horsemen against the Vandals and their Moorish Camelry conscripts, (thus the camel access) because yes, the smell was effective. To win, he dismounted his troops in order to win battles and even end the Vandals themselves.
Heavy Demo Ship Free. Demo Ship upgraded even without War Galley.
At the battle of Cap Bon in 468, the Vandals employed unmanned vessels loaded with combustible fluids. Granted, historians define these as Fire Ships, but these boats while, yes, set ablaze, were unmanned and were literally meant to destroy many boats at once due to Byzantine navies being in tight formation. This better defines a Demo Ship bonus. As a power Spike, Demo Ships have the problem of winning fights and killing themselves in the process.
Siege Engineers effects all War Ships except Fire Ships (doesn't give Demos +1 range but gives them 40% more building damage instead of %20)
Being the naval savvy force they were, the Vandals were also Siege Masters as they besieged Carthage and Rome and in a much shorter time than either Carthage or Rome ever could, with far inferior starting tech. You still have to research Siege Engineers mind you.
Unique Unit: Plunderer – If the Throwing Axeman were a knight, then the Plunderer is its Tarkan. The Plunderer is a short range infantry who destroys buildings and Siege but lacks power vs. other units. Has some pierce armor and inflicts a minor burn effect. Does 1 damage (2 vs buildings) per Plunderer to a target enemy every 2 seconds for 20 seconds. If the unit dies burning, the Vandal player gets 20% of the resource cost of the unit.
| Plunderer | Stats | Elite |
| --- | --- | --- |
| Hit Points | 50 | 60 |
| Armor | 0/3 | 0/4 |
| Attack | 5 (+5 vs buildings, +3 vs Stone Defense, +5 vs siege) | 5(+7 vs buildings, +6 vs Stone Defense, +6 vs siege) |
| Range | 4 | 4 |
| Line of Sight | 5 | 5 |
| Accuracy | 100% | 100% |
| Rate of Fire | 1.75 | 1.725 |
| Movement | 1.1 | 1.1 |
| Cost | 50f,30g | |
| Train Time | 15s | 15s |
| Elite Upgrade | 900f,750g | 45s |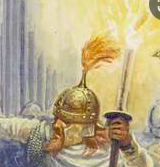 The history of the name plunderer isn't strictly Vandalic. In fact most barbarians did this, but few did it to the degree that they got a modern term VANDALISM named after their handiwork!
Castle UT - Drauhtinon: Barracks, Stable, Siege Workshop and Archery Range build 166% faster and work 20% faster.
Cost: 400f/350g. 35s
The word means "To War" and for most Germanic tribes, that was kinda life at the time. It's as specifically Vandal as Chatras were Vietnamese.
Imperial UT– Vandalism: Burn damage of Plunderers increased x2 duration and get +1 range
Cost: 500f/400s 80s
Disabled Techs:
Disable Barracks: Eagle Scout, Halberdier
Disable Archery Range: Hand Cannoneer, Parthian Tactics, Arbalest, Elephant Archer
Disable Stable: Hussar, Battle Elephant, Steppe Lancer
Disabled Siege: Heavy Scorpion, Siege Ram, Siege Onager
Disabled Dock: /
Disabled Blacksmith: /
Disabled Economy: Two Man Saw
Disabled University: Fortified Walls, Bombard Tower
Disabled Monastery: Theocracy, Block Printing, Atonement, Fervor
Disabled Castle: /
Gameplay:
To play the Vandals, you must cope with your lack of strong pierce damage land troops. This means high melee armor units will be better able to shrug off Vandal damage. If near the shoreline however, you can support your armies with Galleys. At sea, there's +1 range after getting Siege Engineers, although it does arrive late to the scene. If you can rule the sea, your Siege Engine boosted Cannon Galleys will rip thru any shoreline defensive that thought it could have the right to exist.
If you must pierce late game, your best bet is Heavy Cav Archers, oddly enough, but that's in extreme circumstances. Other Germanic Teutons can be very troublesome with all their armor.
Knight vs. Knight, Vandals have the edge. It almost makes me want to take away either Husbandry or Blood Lines: for a comparison: An FU Paladin does 12 damage vs. an FU paladin slicing thru 180 HP in 15 hits. But a Vandal Paladin kills a Frankish paladin in 13 hits, doing 15 damage per hit. This bonus applies to when your camels attack as well, so without Husbandry, it would less likely be able to abuse cavalry destruction. Camels however aren't weak to this. Simply put, the bonus is vs armor type known as Cavalry which horse and elephant units have.
The ability to hinder buildings by hitting them adds a layer to the gameplay. Sending a scout to hit a TC or castle or barracks to slow production can give you the edge if you can get there.
On water this is THE Demo civ. And there's no other civ more worthy than a civ from the 5th century that actually used unmanned burning ships instead of some blasting power Imperial gunforce.