We also have this, psst check unit in the top left

https://www.ageofempires.com/wp-content/uploads/2022/04/Surprise_Brooklyn_Image-1536x864.png
After 16 years of waiting mama mia is upon us
Last time I misidentified the US regular hidden in one of the earlier screenshots as a bersaglieri.
I cannot be wrong this time
The regular is also in the screenshot, so you can compare.
Before I complain I just wanna say I love the continuous updates and I appreciate all the hard work the devs are putting into this game.
Now can someone explain to me why they nerfed the culvs attack against gatling camels? I cant for the life of me understand it. Gatling camels are absolutely broken in team games and should AT LEAST be capped at like 10 or something like that. The unit should not be in the game imo. Nerfing culv attack against them which is one of the only counters except cav is ridicilous. At least nerf them somehow. Reduced speed, rate of fire, whatever. Something to reduce their impact in the late game.
Yeeeeeeeeeee




Bersaglieri




Viva Italia
Italians along with Swedes were planned to be in the game from the beginning but were scrapped. Glad both are in now.
Very hyped if it is really Italy. Time to guess the flag:
THE flag of Italy


Kingdom of Italy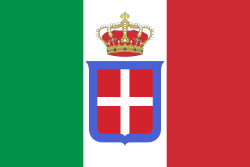 Sardinia-Piedmont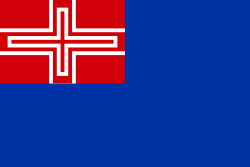 Savoy:


If they have bersaglieri they should be more based on the house of Savoy. But seeing "Germans" they probably would also mix several Italian states. I would not be surprised if the flag is Venetian.
So the PUP went 100% to the final version ?
I was hoping Reconquista had a1:4 or 1:3 ratio or be moved to AGE1 to save spot for another AGE2 card.
Me alegra que agreguen a Italia, es una de las civilizaciones mas pedidas.
Me pregunto ¿Qué revoluciones tendrá?.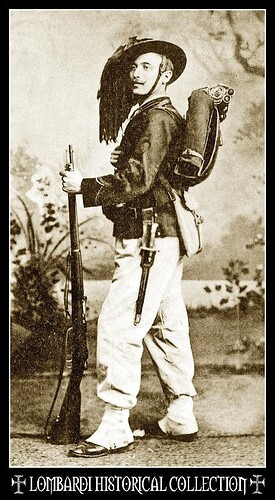 Bersaglieri in 1900 Source: Lombardi Historical Collection
Creo que en el 1900 Italia tenia "colonias" en el continente americano.
Veo posible que las revoluciones de Italia sean Argentina, Chile, Perú, Colombia y Brasil.
Como siempre buena información y gracias por compartirla EliteRiflemann
pode ser um bandeirante brasileiro ?
I thought the same thing, it looks like a uniform of a voluntario da patria, but if you compare it with the Italian image, the hat, pants and jacket are the same, even the sleeve is exactly the same. There is no doubt, it is an Italian unit
Very exciting. I hope the Italians civ falls in line with the other European civs and isn't over-designed.
And that very iconic feathered hat.
Many 19th century army uniform had feathered hats but that huge bunch of capercaillie feathers are kinda unique.
As they have become more "faithful" with uniforms recently (see US and Mexico infantry and the green jacket for rangers), I'd say it would be a bad idea if this is not an Italian unit.
Según las notas de parche, también sirve con los aztecas o con los incas. No puede existir ningún desafío tras una paywall. Lo más probable es que sea un error de traducción que omitió ese dato.