We all feel that WE's handling of AOE3 has been particularly poor this year. People were frustrated. I sincerely hope it could get better overall next year.
In terms of what WE should improve, I think they should learn from the company WE.
For people who don't know about WE, it is World's Edge, the company that managed the very successful games of AOE2 and 4. Everyone was praising their quick response and good interaction with the playerbase.
Specifically:
WE fixes the relic bug in one week, while WE leaves the Maigadi visual bug and the architect fort bug for months.
WE quickly responded to players' criticisms on variant civ names in two days and wrote a long journal article trying to explain that choice, while WE delayed a very hyped major patch for more than a month and the only message we got was "it was queued after other games".
WE responded to the variant civ names just because of some very neutral and mild criticisms, while we had to literally riot so that WE could promise "better communication in the future" (which never happened).
WE knows how to hype its games months prior to release with announcements of announcements, while we ourselves had to dig into the game data to find some updates not shown in WE's patch notes (and never showcased).
WE does not exclude any of its products in the events and promotions, while WE left some of its product out from the anniversary event even right after it got a major DLC.
WE tries to appease the players' frustration over bugs very in-time, while WE rarely gives any clear message on its game.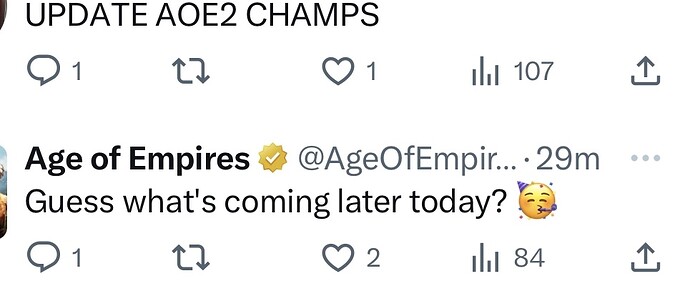 (The best part: this is under AOE3's patch note)
I feel everyone's frustration here. WE has been doing a very poor job this year. Let's hope WE could really learn from WE on how to manage games and maintain a positive community,